January 09, 2020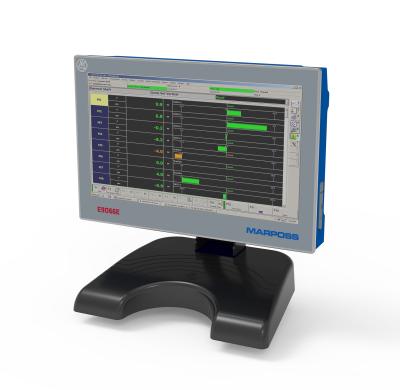 Marposs Corp. has announced the availability of its E9066E 15.6-in. wide-screen industrial computer for data collection, measurement, industrial control and production/factory automation. Running on a 64-bit industry-grade quad-core processor the E9066E guarantees excellent throughput for complex calculations and graphical applications without impacting system performance. This totally fanless and diskless industrial computer provides a compact, economic and maintenance free solution for any shop-floor environment.
This 15.6" true-flat full-HD LCD with integrated touch screen supplies operator information, rich color and crisp, detailed screen images better than ever before.
The E9066 provides your gauging applications with several LAN, USB, and legacy communication ports, as well as industrial fieldbus communication ports for any connectivity need. The system can also be provided with an integrated UPS and battery pack for total peace of mind in case of power outages (brown-outs, black-outs).
The E9066E is provided in a sealed, compact, shop-floor proof enclosure, and readily adapted for bench-mount or swing-arm solutions using industry standard, VESA-compliant supports.
Marposs QuickSPC Measurement and SPC software suite and the Marposs GagePod Data Acquisition System complement your application, offering cost-effective solutions and performance for real-time data acquisition and measuring applications, process and quality control and real-time SPC.
Related Glossary Terms
quality assurance ( quality control)


quality assurance ( quality control)

Terms denoting a formal program for monitoring product quality. The denotations are the same, but QC typically connotes a more traditional postmachining inspection system, while QA implies a more comprehensive approach, with emphasis on "total quality," broad quality principles, statistical process control and other statistical methods.

statistical process control ( SPC)


statistical process control ( SPC)

Statistical techniques to measure and analyze the extent to which a process deviates from a set standard.