February 12, 2012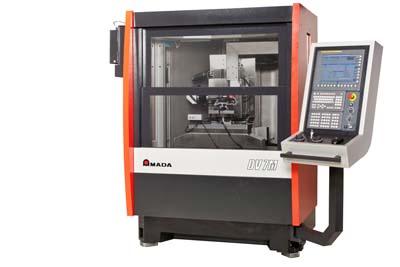 Amada Machine Tool America says its new DV-7M pulls no punches in exploiting advanced CNC, digital vision, mechanical accuracy, and versatility to produce tools at the extremes of quality and productivity. Exhaustively automated, with digital inspection, seven control axes and autoloading for both workpieces and grinding wheels, the modular machine automates grinding of the most complex and subtle tool profiles, moving, positioning and loading without human intervention or hesitation.
The DV-7M brings together several technologies used in the company's CNC profile grinders and surface grinders, and then adds some new ones. It's built on a vibration-damping polymer/mineral base, with active cooling, hydrostatic ways, linear motors and optional, modular tilt/swing/rotate machine elements for additional axes of simultaneous control. The range of possible workpieces extends from form-cutting tools to gear hobs; from cylindrical crush rolls to punches and dies. It will profile-grind, creep grind, or cylindrical-grind, with complex relief angles including logarithmic relief for hobs and other complex cutting tools.
Workpiece materials range from tool steel to graphite, from copper to carbides and ceramics. It's designed to use both CBN abrasive and diamond grinding wheels.
On the control end, the DV-7M is reportedly a tour-de-force of CNC, vision, and self-compensating technologies. A Fanuc 31 i-Model A (Panel i) provides control and CAM functions. After downloading a CAD file, the operator applies reliefs and related geometry to the basic part profile, using a Windows-interface, built-in CAM program at the machine tool CNC. Then, bringing optical profiling into the 21st century, the vision system eliminates the cumbersome charts, compares downloaded CAD files with the actual part profile, sets the swiveling wheel pivot point to the workpiece edge, then enables in-machine digital inspection of all components. As it is grinding, identifying departures from the nominal profile at high magnification and with digital precision, allowing wheel-wear compensation.
Workpieces have smooth, blended reliefs and rakes – overcoming a limitation of conventional CNC profile grinders. Where an EDM finish not satisfactory, this reciprocating CNC profile grinder will produce a superior tool with a smooth finish and sharp edges.