September 17, 2018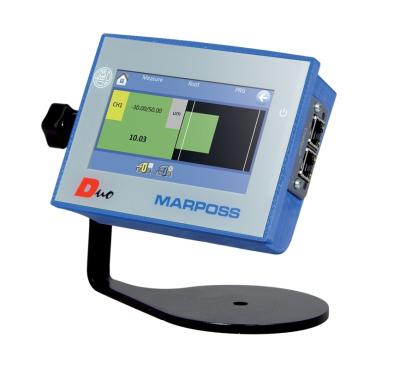 Marposs has introduced its new Duo premium compact electronic display unit. Similar in size to a smartphone, Duo is extremely small and powerful, featuring a 4.3'' touch screen unit for display and storage of measuring data acquired through one or two sensors. Designed in response to customer needs, it is a "something in-between" display unit that provides premium features at an affordable price.
Duo is well-suited for simple manual applications when only a few measurements are needed on the shop floor at any given time. Featuring two sensor input channels, it can simultaneously display two measurements at once in either analog of digital. The system is portable, easy to configure and provides clear visualization of measurement status.
Duo is designed to work with Marposs LVDT/HVT manual gauges, such as bore gages M1 and M1 Star, snap gages M3 Star, ring gages M4 and M4 Star, and Red Crown/Red Crown2 displacement sensors with a measuring range up to ± 5 mm. Data collected can be exported through the USB port or the optional Fieldbus port.