August 01, 2015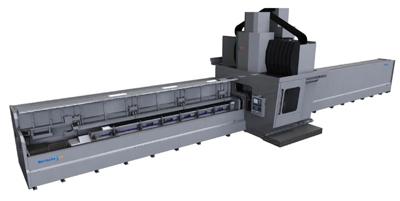 An aerospace customer was faced with the choice of either building a new facility to house two new milling machines or splitting production between two manufacturing sites. Bertsche developed a new machine concept that offered the customer the productivity (throughput) of two machines and the floor space footprint requirements of one machine, thereby saving the customer the cost of building a second facility and moving all production to a larger facility.
The Bertsche Dual P5 Mill has all the benefits associated with having two machines, namely independent but linked CNC's, two 5-axis machining modules (A-side, B-side) each with separate machining chambers, the ability to machine two different parts at the same time and yet the overall machine is nearly the same size as a previously supplied single 5-axis P5 Mill. Based on the daily production requirements, the machine is operated A-side only, B-side only or A and B sides together.
Twin integral vacuum fixture tables are designed to accept a variety of different vacuum workholding fixtures that can be quickly changed at a moment's notice, with a high degree of repeatability. To assist the operator loading parts, each table has retractable datum surfaces that swing into place to edge locate parts and then swing back down, when machining. Thick-walled composite structures (up to 0.625") are milled, scalloped, edge trimmed and drilled on all sides. High accuracy hole patterns and datum holes are drilled for determinate assembly and then probed for accuracy. Parts are machined complete in a single setup and manufactured one-off to meet user ship-set kitting requirements.
With the growing trend towards cutting composites wet, flood coolant cutting was added and composite debris is flushed into a full bed length flume system. Flood coolant is constantly circulated throughout the machine for greater machine thermal stability. High volume mist collection hoods, integral to the machining compartment, collect and vent mist. A special sealing system is employed on linear ways to protect precision surfaces from aggressive (detergent type) coolant fluids that must be used with composite materials. Multiple temperature sensors on the bed and X-axis slide accurately capture data for dynamic thermal compensation. To reduce the amount of filtration media, coolant is continuously filtered using a cyclonic filtration system.
Benefits:
• Efficient use of available floor space with 2x the productivity compared to a previously installed machine
• Lower operating costs due to greater efficiencies
• Flexibility to better match daily production demands to available machine capacity
• Operate as single or twin machine
• Easier to manage work area
• Labor cost savings
• Longer tool life due to wet cutting composites
• Better air quality due to wet cutting (dust management)
• High-response dual-axis head and spindle
• Thermal growth control
• Thermal growth compensation In machine probing, calibration and position verification (bore ring, sphere)
• Part drying provided as part of post machining operations