September 21, 2016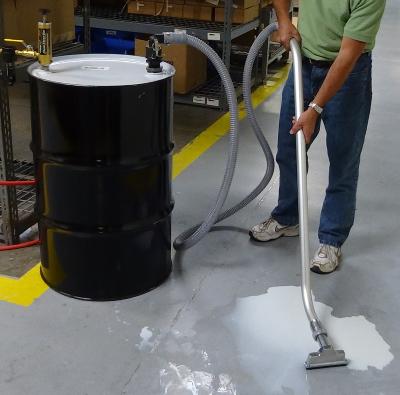 The Dual Force Vac Drum Pump from Vortec is a convenient and versatile solution for liquid material handling and spill clean-up. Using Vortec technology, this two-way, air-powered drum pump can fill or discharge a 55-gallon drum in just 2 minutes with no moving parts and no shock hazard.
Switching from fill to discharge mode is accomplished with a quarter-turn of a knob. Installs on a 55-gallon drum in less than a minute. Vortec Dual Force Vac Drum Pump includes a vacuum hose and long reach wand for "out of the box" functionality. It can handle viscous liquids to 1,500 cPs, as well as chips, swarf, and particulate, making it ideal for cleaning coolant sumps, sludge and wastewater from parts washers, solvents, hydraulic oil, tramp oil, liquid spills, liquid transfers, and more.
An automatic safety shut off valve prevents overflows, while a relief valve limits internal drum pressure to 8 PSIG. Powered by compressed air, with no moving parts, these quiet running drum pumps require virtually no maintenance. They are resistant to most non-volatile non-flammable liquids, making them a viable tool in many industrial and commercial environments. An optional kit includes aluminum wand and squeegee spill pick up tool. Backed by a 10-year warranty.