February 16, 2022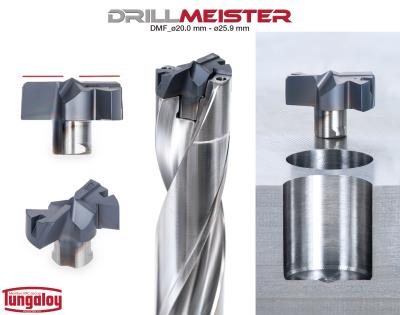 Tungaloy has announced the expansion of its DrillMeister exchangeable-head drill system by adding diameters ranging from 20.0 mm to 25.9 mm (from .787″ to 1.020″) to the DMF drill line for flat bottom hole drilling including counterboring.
DrillMeister is a super productive, accurate, and cost efficient exchangeable-head drill series. Its DMF counterboring drill head line now includes diameters from 20.0 mm to 25.9 mm, increasing the entire standard range from 6.0 mm to 25.9 mm (from .236″ to 1.020″).
Optimized for counterboring, the DMF drill heads features 180 degree flat edges with a self-centering edge in the center for easy and stable drill penetration. This design does more than just counterboring or making flat bottom holes; it provides excellent hole quality for holes of up to 8xD depth, while eliminating the need for pilot holes. The flat-edged drill tip geometry helps facilitate and stabilize drill entries and exits when the part surfaces are irregular such as inclined, uneven, or curved. Furthermore, thanks to the exchangeable head system, the drill eliminates the need for regrinding and reconditioning of the intricate drill heads, thus not only provides process security but also reduces manufacturing costs.
The DMF drill heads are available in AH9130 PVD coated grade developed specifically for hole making applications. The coating provides the grade with a good balance of wear and fracture resistance for long and predictable tool life.
Related Glossary Terms
counterboring


counterboring

Enlarging one end of a drilled hole. The enlarged hole, which is concentric with the original hole, is flat on the bottom. Counterboring is used primarily to set bolt heads and nuts below the workpiece surface.

flat ( screw flat)


flat ( screw flat)

Flat surface machined into the shank of a cutting tool for enhanced holding of the tool.

physical vapor deposition ( PVD)


physical vapor deposition ( PVD)

Tool-coating process performed at low temperature (500° C), compared to chemical vapor deposition (1,000° C). Employs electric field to generate necessary heat for depositing coating on a tool's surface. See CVD, chemical vapor deposition.
Additional Products from Tungaloy America Inc.