November 09, 2022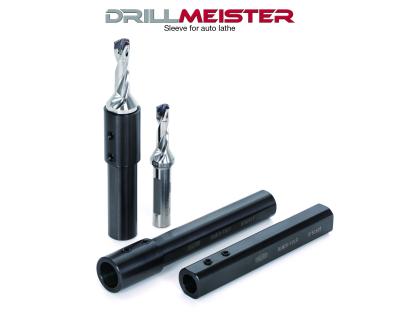 Tungaloy has expanded its DrillMeister exchangeable-head drill system by adding drill sleeves to the standard lineup to enhance drilling productivities of Swiss-type sliding head automatic lathes.
DrillMeister is an innovative exchangeable head drill system that has both the efficiency of solid carbide drills and the productivity of indexable drills. Covering the diameter range from 6.0 to 25.9 millimeters (.236 to 1.020 inches) in 0.1 millimeter (.004 inch) increments, the drill system features a high precision drill body and head interface that ensures precision and cutting point repeatability, while allowing for easy handling. DrillMeister offers five types of drill heads as standard, capable of addressing various drilling requirements.
Without drill sleeves, however, the use of DrillMeister drills in Swiss lathes are limited: the exchangeable-head drills can only be used when the drill shank fits the drill holder of the machine. Otherwise, DrillMeister drills have no place in drilling applications performed in Swiss lathes, not being able to bring out a full potential and benefits of modular drills in Swiss style machining.
The new DrillMeister drill sleeves are available in 16, 25, and 32 millimeters in diameters for metric sizes and 3/4 inches and one inch for imperial sizes that fit the drill holders of the same sizes equipped in Swiss lathes. All drill sleeves have a threaded connecting port on the sleeve end for easy coolant hose connection.
The product of simple design and engineering technology, the new DrillMeister drill sleeves not only make the drill installation easy but also allow quick changing of drill heads while remaining in the limited space of the Swiss lathe, significantly reducing machine downtime when compared with solid carbide drills. Also, thanks to the exchangeable-head system, DrillMeister eliminates the need and cost of regrinding, while its unique interlocking design with precision interface guarantees drill rigidity and index repeatability of each drill head. This ensures high performance and tool life predictability, while also reducing the number of drills needed in inventory.
Related Glossary Terms
coolant


coolant

Fluid that reduces temperature buildup at the tool/workpiece interface during machining. Normally takes the form of a liquid such as soluble or chemical mixtures (semisynthetic, synthetic) but can be pressurized air or other gas. Because of water's ability to absorb great quantities of heat, it is widely used as a coolant and vehicle for various cutting compounds, with the water-to-compound ratio varying with the machining task. See cutting fluid; semisynthetic cutting fluid; soluble-oil cutting fluid; synthetic cutting fluid.

lathe


lathe

Turning machine capable of sawing, milling, grinding, gear-cutting, drilling, reaming, boring, threading, facing, chamfering, grooving, knurling, spinning, parting, necking, taper-cutting, and cam- and eccentric-cutting, as well as step- and straight-turning. Comes in a variety of forms, ranging from manual to semiautomatic to fully automatic, with major types being engine lathes, turning and contouring lathes, turret lathes and numerical-control lathes. The engine lathe consists of a headstock and spindle, tailstock, bed, carriage (complete with apron) and cross slides. Features include gear- (speed) and feed-selector levers, toolpost, compound rest, lead screw and reversing lead screw, threading dial and rapid-traverse lever. Special lathe types include through-the-spindle, camshaft and crankshaft, brake drum and rotor, spinning and gun-barrel machines. Toolroom and bench lathes are used for precision work; the former for tool-and-die work and similar tasks, the latter for small workpieces (instruments, watches), normally without a power feed. Models are typically designated according to their "swing," or the largest-diameter workpiece that can be rotated; bed length, or the distance between centers; and horsepower generated. See turning machine.

shank


shank

Main body of a tool; the portion of a drill or similar end-held tool that fits into a collet, chuck or similar mounting device.