October 13, 2016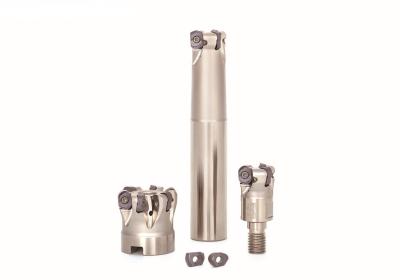 DoTwistBall indexable endmill from Tungaloy America is an ideal tool for die and mold, as well as general engineering. Combined with a rigid clamping mechanism, the insert's unique twisted shape improves chip evacuation for stable machining and long tool life in roughing operations.
There are two standard inserts for DoTwistBall: a high-feed type and a radius type, both are interchangeable on the same tool body. The DoTwistBall comes in three varieties: shank type, bore type and modular type. Large pockets on the cutter body deliver even chip evacuation to avoid recutting, extending tool life in deep slotting and pocketing.
Inserts are available in two grades: AH3135 for general materials, including steel and stainless steel, and AH120 for hardened steel and cast iron.
DoTwistBall will significantly boost productivity for customers seeking an efficient machining solution in roughing components, such as die and mold.
Related Glossary Terms
endmill


endmill

Milling cutter held by its shank that cuts on its periphery and, if so configured, on its free end. Takes a variety of shapes (single- and double-end, roughing, ballnose and cup-end) and sizes (stub, medium, long and extra-long). Also comes with differing numbers of flutes.

shank


shank

Main body of a tool; the portion of a drill or similar end-held tool that fits into a collet, chuck or similar mounting device.

slotting


slotting

Machining, normally milling, that creates slots, grooves and similar recesses in workpieces, including T-slots and dovetails.
Additional Products from Tungaloy America Inc.