October 13, 2016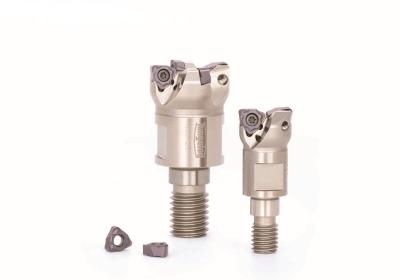 For semifinishing of die and mold, solid and head-changeable endmills are among the most popular tools used. Due to their cutting edge sharpness, however, these tools are not durable enough to bring feed per revolution high enough to achieve the machining performance required, thus resulting in longer machining times and higher tool cost.
DoMini-Mill is a copy mill developed for semifinishing operations, featuring Tungaloy's latest H-class insert. The economical six-cornered insert with dovetail clamp technology has a double-sided geometry, yet positive flanks, providing sharpness and high cutting edge strength simultaneously. By combining the insert's durability and the density of the cutter body, feed rates can be drastically increased compared with conventional products. The insert grade is available in AH110, providing stable and long tool life in machining carbon steel to hard materials up to HRC 60. The cutter body can also be connected to TungFlex, the modular system with a metric thread connection, extending the tool overhang in order to meet the customers' most demanding applications.
Related Glossary Terms
feed


feed

Rate of change of position of the tool as a whole, relative to the workpiece while cutting.

milling machine ( mill)


milling machine ( mill)

Runs endmills and arbor-mounted milling cutters. Features include a head with a spindle that drives the cutters; a column, knee and table that provide motion in the three Cartesian axes; and a base that supports the components and houses the cutting-fluid pump and reservoir. The work is mounted on the table and fed into the rotating cutter or endmill to accomplish the milling steps; vertical milling machines also feed endmills into the work by means of a spindle-mounted quill. Models range from small manual machines to big bed-type and duplex mills. All take one of three basic forms: vertical, horizontal or convertible horizontal/vertical. Vertical machines may be knee-type (the table is mounted on a knee that can be elevated) or bed-type (the table is securely supported and only moves horizontally). In general, horizontal machines are bigger and more powerful, while vertical machines are lighter but more versatile and easier to set up and operate.
Additional Products from Tungaloy America Inc.