October 12, 2016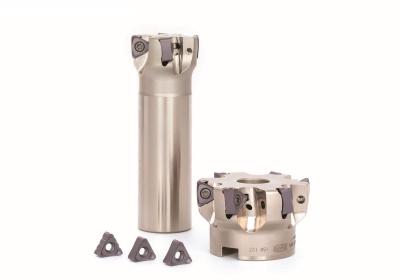 In advanced processing technology, more and more components are made with complex and difficult to produce features. Tool interference with fixturing is common during milling operations. To help with this issue, shoulder mills are becoming a popular choice in milling operations due to their versatility for facemilling, profiling and shouldering operations.
According to Tungaloy America, DoForce-Tri is the perfect choice for all milling operations, featuring a double-sided insert with six cutting edges. Three types of inserts are available to meet the needs of many different jobs: a standard wiper insert with an MJ chipbreaker on true 90-degree cutting edges or with an NMJ chipbreaker on serrated cutting edges, as well as a radius insert with an MJ chipbreaker on large round corners for edge toughness instead of wipers.
With a combination of facemill and shoulder mill capabilities, DoForce-Tri can deliver an excellent machined surface using a wiper insert, can reduce cutting force with a serrated insert and can achieve remarkable wall accuracy with a straight cutting edged insert.
The cutter bodies come in both a shank type from 1.25"- 1.50" (32-40 mm) in diameter and a bore type from 2.00"- 5.00" (50-125 mm) in diameter, respectively, available for coarse or close pitched designs. The rich line up of the DoForce-Tri series gives flexibility and adaptability to almost any milling situation.
Additional Products from Tungaloy America Inc.