October 01, 2018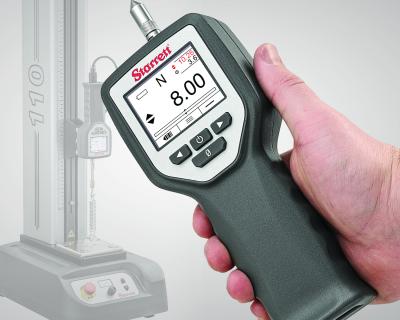 The L.S. Starrett Co. has introduced its DFC and DFG series of digital handheld force gages. Depending on the series, advanced automatic testing can be attained with the DFC force gage controlling a Starrett FMM digital force tester, or basic testing can be performed using the DFG gage.
The Starrett DFC and DFG digital force gages are part of the new Starrett L1 line of entry level digital force measurement solutions. Optimized for production and quality control testing, the versatile, innovative architecture of the Starrett L1 system is designed for fast, easy-to-use, reliable and repeatable operation. Starrett DFC and DFG digital force gages feature an easy-to-view high-resolution OLED color backlit display and auto-off function. A primary and secondary window shows test results, and out-of-tolerance results display in red. A simple multiple-function keypad has softkeys that are programmable to the users' most repetitive functions.
Adjustable sampling rates help capture peak loads, and filters can be applied to peak and display values. The Starrett L1 digital force gages' battery life provides over 30 hours of continuous operation and have a USB port for transmitting data to a computer. The gages have a cast aluminum housing with a comfortable grip design for handheld testing, and a metric threaded top post enables screw-on attachments and clevis adapters that fit hundreds of Starrett test fixtures.
"Whether for simple, basic economical testing via handheld gaging, or more advanced testing when mounted on our L1 stands, our innovative Digital Gages provide the ultimate solution in force measurement versatility," said Emerson Leme, head of Metrology Division at Starrett.
The DFC Series is a revolutionary concept for force measurement via a handheld force gage. The DFC may be used as an advanced digital force gage and controller with Starrett FMM Force Testers, or as an advanced digital force gage with Starrett MTL and MTH Manual Force Testers. The DFC Gage can serve as a universal interface where the user tests and can configure load limits, distance limits, break limits, crosshead travel direction, crosshead speed and more. The DFC features a precise measurement accuracy of 0.1 percent full scale with internal data sampling at 25KHz. Display resolution is 10,000:1 and the DFC features Bluetooth, USB and RS-232 communications plus digital I/O.
The DFG series is a basic force gage that measures force at an accuracy of better than 0.2 percent full scale. It is ideal for basic handheld tensile and compression testing. Test setup and operation is fast, efficient and easy. The DFG display shows the test direction and dynamic load during testing. Results are displayed at the completion of testing, including "Pass-Fail" when tolerance is applied. The gage will display statistics when results are saved to the gage's internal memory and it can store up to 50 test results in local memory.
Both the DFC and DFG digital force gages are supplied with a complete accessory kit and carrying case that includes hook, notch, chisel and flat attachments, a chisel and point adapter, a 6" extension rod and a NIST-traceable certificate of calibration.
When more sophisticated and complex testing is required, Starrett also offers a range of force solutions via its L2, S2, L2 Plus and L3 Systems. Starrett force measuring equipment is manufactured in the U.S.A. and is available to order now in several configurations including handheld force gages and digital and manual force testing stands.