March 03, 2021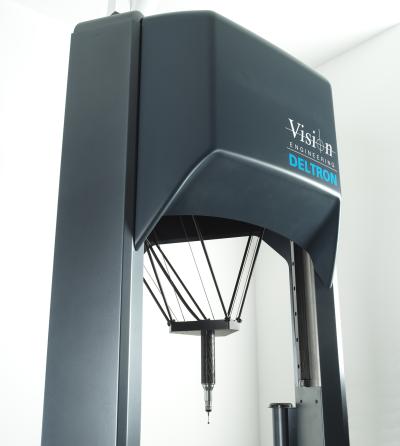 Vision Engineering, a 62-year-old leading designer and manufacturer of non-contact measurement, digital 3D visualization, and ergonomic inspection technologies, is partnering with Aberlink Ltd, the well-known British metrology innovator, to add the first contact-only measurement system to its range of metrology systems.
Designed for robustness, reliability, affordability and ease of use, Deltron, is a shop floor hardened non-Cartesian CMM with an innovative delta robotic mechanism, reknown for repeatable motion, fast acceleration and a high level of measurement accuracy. The delta mechanism on Deltron operates with a maximum vector speed of 500mm/sec and a maximum vector acceleration of 750mm/sec2.
Deltron is built with temperature sensors which ensure the measurement results are as though they were performed at 20oC. This means the system can be positioned anywhere it is needed, next to a machine tool, in a manufacturing cell, or used in a dedicated inspection area.
The cylindrical measuring volume of the system is 14.5" (370 mm) diameter x 10.6" (270mm) in height. The measuring accuracy of 2.6 + 0.4L/100 μm incorporates 0.1 μm resolution scales and a granite base holds samples up to 440 lbs (200 kg).
Delivered with ViTouch3D, a powerful and easy to use software, suitable for a range of abilities.
Deltron is the result of a new partnership between Vision Engineering, and Aberlink Ltd., the largest UK-owned manufacturer of co-ordinate measuring machines, vision measuring systems and measurement software. The partnership will see Vision Engineering branding Aberlink's brand new Extol shop floor CMM, as Deltron. Both Vision Engineering and Aberlink are well known manufacturers in their respective markets and the collaboration will allow both companies to extend their coverage of the global metrology market.
Güven Türemen, Vision Engineering's Group Commercial Metrology Manager said "We are delighted to partner with Aberlink in adding Deltron to our growing metrology product range, the first of a number of collaborative and innovative products between our companies".
He continued, "We use Aberlink CMM technology in our own manufacturing facilities in Surrey, UK and in Connecticut, USA. We know how important it is to have a robust and easy to use CMM in the heart of our machine shop to ensure consistent quality and compliance. Our emphasis has always been on ergonomics and ease of use in a production environment. Aberlink have taken delta positioning technology, widely used in automation, to create a true shop floor product for use close to the point of manufacture, by production engineers."
Related Glossary Terms
metrology


metrology

Science of measurement; the principles on which precision machining, quality control and inspection are based. See precision machining, measurement.