February 12, 2021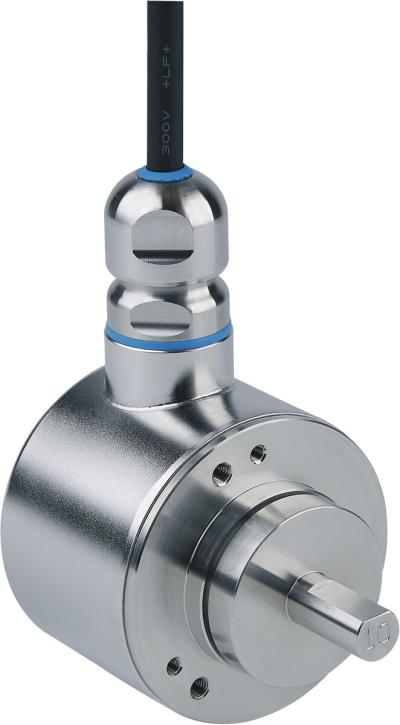 Developed for long-lasting reliability despite frequent high-pressure chemical washdowns in demanding food and beverage applications, SICK's DBS60I-W is the first IP69K incremental encoder with added ingress protection thanks to a new, patented deflector shield.
The SICK DBS60I-W washdown encoder delivers all the high-resolution performance of SICK's popular DBS60 incremental encoder but in a robust IP69K-rated, 316L (V4A) stainless steel housing. The specially developed deflector shield is designed to protect the shaft seal from ingress of water and caustic chemicals during high-pressure washdown. As a result, the washdown encoder promises a long product life, protecting machine reliability and availability on food processing, bottling, and packaging lines.
SICK-Patented Deflector Shield
The SICK DBS60I-W has a smooth, rounded housing and EHEDG-approved hygienic cable gland, avoiding the possibility for gaps or traps to harbor residue build-up or bacterial-growth. The patented deflector shield fits snugly on the face of the encoder to eliminate direct contact with the shaft seal during washdown, eliminating the opportunity for ingress of water and caustic chemicals because of high-pressure contact.
Versatile Performance for Food Processing and Packaging
The SICK washdown encoder is a direct response to the challenges of lost productivity through unexpected line stoppages caused by premature device failure and short product life because of water ingress, a particular problem in environments with frequent high-pressure regimes, such as meat and fish processing and packaging, or bottling plants.
Corrosion and Bacterial Resistance
The washdown encoder's hygienic design also avoids product contamination that might otherwise lead to health concerns or costly recalls. The 316 (V4A) stainless steel provides high-resistance to corrosion caused by the aggressive chemicals used in tough Clean in Place and Sterilize in Place regimes, while the smooth housing design prevents the opportunity for bacterial growth. Product information is laser- marked on the device, avoiding the need for sticky labels, and ensuring maintenance details are easily accessed even after frequent washdowns.
The SICK DBS60I-W is a much-needed solution for common food and beverage machinery applications like speed control and measurement on conveyors, controlling product transfer between two processes, speed measurement in bottle labelling applications, or providing feedback for volumetric measurement and vision inspection duties. Early applications with SICK global customers have included meat and poultry processing, fish portioning, and packaging.
The SICK DBS60I-W is an addition to the SICK DBS60 Inox family of stainless-steel incremental encoders. With a resolution of up to 5,000 pulses per revolution, and a diameter of only 58mm, together with a range of hygienic connections, the Washdown Encoder delivers versatile performance compatible with most machine designs and allows for easy replacement in existing processing plant and machinery.