July 12, 2012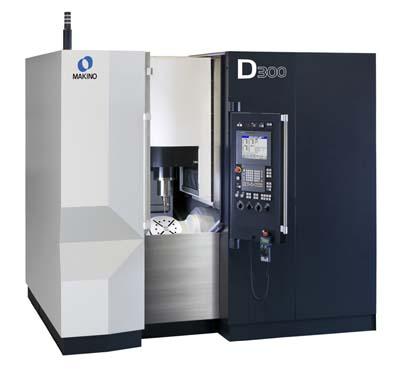 Makino announces the D300 5-axis vertical machining center as the newest entry into the 5-axis aerospace machining arena. Similar to the D500, this 5-axis machining center is designed specifically for small, complex, 3-D contouring of high-quality part production as typically seen in aerospace machining, medical manufacturing, high-end job shop and die/mold applications.
"From roughing to finishing, the D300 enables manufacturers to reduce setups, slash cycle times and improve accuracy in the toughest machining processes," stated William Howard, Makino vertical product line manager. "The rigidity and thermal stability of its direct-drive rotary table ensures sustained dynamic accuracy, while its speed provides rapid positioning and feedrates to reduce overall lead-times."
The D300 worktable offers a work area diameter of 300mm, accommodating workpiece sizes up to 450mm by 270mm and 120kg. The machine provides X-, Y- and Z-axis travels of 300mm, 500mm and 350mm, respectively, at feed rates of up to 60,000mm per minute. Rotary table axes offer rotational motion of 240 degrees (+/-120 degrees) on the A-axis and a full 360-degree (continuous rotation) on the C-axis.
The machine comes standardly equipped with a 15,000-rpm HSK-A63 spindle with 120Nm (42Nm continuous) of torque for flexible, high-speed machining of various workpiece materials including steel, aluminum and titanium. Optional spindle configurations include a 20,000-rpm HSK-A63 spindle and 30,000-rpm HSK-F63 spindle.
Makino uses direct-drive motor technology in the D300's C-axis rotary table and A-axis trunnion for outstanding positioning accuracy and repeatability. The ultra-high-torque direct-drive motors also provide superior acceleration and rotary speed characteristics that can reduce cycle times of complex 5-axis simultaneous machining applications by up to 60 percent.
The D300 axis configuration is unique, delivering added precision performance. The length of the trunnion assembly runs parallel to the X-axis motion only, making the trunnion assembly deflection-free during quick axis motion for greater accuracy than traditional 5-axis configurations.
The machine features roller linear guides across all linear axes for outstanding rigidity and stiffness while maintaining very productive rapid and feedrates. Y- and Z-axes are located above the worktable, with the X-axis located under the table to ensure a cantilever-free design and highest positioning accuracies.
The D300 uses the Makino Professional 5 Control, which provides a Windows CE graphical user interface (GUI) with touch-screen access, and the networking and storage capabilities of a data center. This data center features a flexible, user-friendly program and data management for quick, seamless changes from one setup to the next. Its built-in Ethernet networking capability offers ready integration to off-machine program storage.
Super Geometric Intelligence (SGI.4) software developed specifically for high-feedrate, tight-tolerance machining of complex, 3-D contoured shapes involving continuous tiny blocks of NC data that ensures production rates faster than standard CNC systems while maintaining high accuracy. SGI.4 helps deliver the lowest cycle times and costs achievable by reducing machining cycle times on dies, complex cavities, and cores and medical parts by as much as 40 percent when compared to most other control technologies.
The D300 incorporates control enhancements to improve 5-axis machining performance and operability. The tool center point (TCP) control allows programming based on the tool tip so that tool-compensation features can be applied. Further TCP developments also improve the cutter path to achieve greater surface quality. Dedicated user-friendly screens simplify the overall application of 5-axis machining, and easy-to-apply functions prevent interference between the spindle and trunnion during automatic operation to improve risk-free production. The machine can be easily upgraded for automation at any time with an automatic pallet changer.
Additional Products from Makino Inc.