October 01, 2014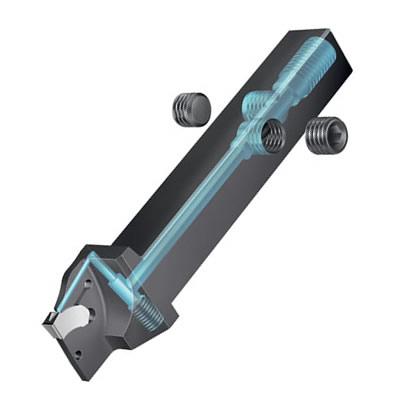 Walter has added additional sizes and designs to its Walter Cut-SX single-edged grooving system for grooving and parting. With the expanded line-up of Walter Cut-SX the cutting depth of grooves is no longer limited to the length of the insert, as it had been with double-edged systems. This makes it possible to achieve deeper grooving and parting cuts that are increasingly required in many sectors of industry.
Process reliability is enhanced by Walter Cut-SX's self-clamping inserts. This is made possible by having precisely matched grooving inserts and insert holders, a positive locking insert shape with form fit underside and a sturdy top clamp. A major advantage of this design is that in comparison to conventional inserts fitted at a straight angle, process reliability is significantly increased because a positive locking insert cannot be "lost" during machining. This is particularly important with parting, where there is always a risk that an insert can be pulled from the holder by the action of the workpiece and the bar separating.
Additionally, because grooving or parting applications may inhibit externally applied coolant from reaching the cutting edge, the Walter Cut-SX G2012-P toolholder features internal coolant delivered directly to the cutting edge, both with and without high pressure. Initial customer results show this can increase tool life by as much as 200 percent.
In the future, Walter will offer its Walter Cut-SX G2042R/L grooving blades with strengthened shank in four variants: As a left- or right-handed tool, each in a standard and a contra version. This makes it possible to work in any position required, even where space may be limited. Because the tool shank reduces available clearance when grooving in the immediate vicinity of the spindle, the mirror-image design of the contra version provides an easy solution to this potential problem.
Walter Cut-SX G2012-P toolholders with through coolant are available in the inch shank sizes of ½", 5⁄8", ¾" and 1". Walter has now added the metric shank sizes of 12 and 16mm (0.47 and 0.63") for smaller diameters to complement the 20 and 25mm shanks already available.