October 01, 2018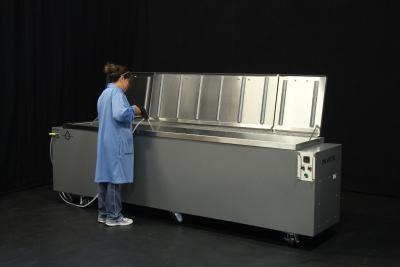 Omegasonics announced that it is offering ultrasonic cleaning machines that are completely customizable. Omegasonics offers more than 50 different ultrasonic cleaning units, including industrial and bench top washers. However, if one of its existing machines does not meet a customer's requirements, Omegasonics will customize a machine to the customer's specifications.
By offering customizable ultrasonic cleaning machines, Omegasonics provides a more effective solution based on the unique cleaning specifications of the client. Specialized requirements include the types and sizes of objects to be cleaned, and the particular type of contaminant needing to be removed. These factors help determine everything from tank size to transducer frequency, as well as other design details.
"Our goal is to provide our customers with the best ultrasonic cleaning machines on the market," said Frank Pedeflous, president of Omegasonics. "By offering the option to customize our machines, we always have a solution to meet our customers' needs, allowing them to increase productivity and further reduce downtime and the cost involved in cleaning products by hand."
Related Glossary Terms
ultrasonic cleaning


ultrasonic cleaning

Method of cleaning metal or plastic parts by immersing them in an aqueous or solvent-based cleaning solution and imposing ultrasound energy on the bath to enhance cleaning by creating cavitation conditions at the part surface, which imparts a strong scouring action to remove tenacious soils.