December 12,2011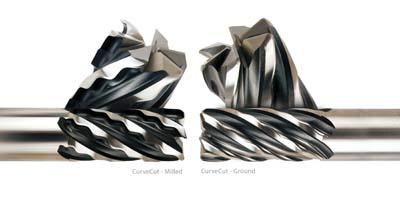 The new CurveCut powder metal endmills from Precision Cutting Tools Inc. have a roughing and finishing design, which enables excellent results for Titanium, Stainless Steel and other alloys metals. On the assumption that more metal removed per minute will in turn result in greater profits, this End mill will assist you in reaching maximum return.
In comparison to Carbide, Powder Metal has proved to be less brittle which means you are able to stronger on harder materials, the company reports. Powder Metal 30 has more uniformity and has finely dispersed particle distribution allowing the tool to have twice its life in comparison to HSS or Carbide. In combination with our new CurveCut geometry, Powder Metal reportedly delivers the utmost performance for the best price.
CurveCut endmills are offered in ¾", 1", 1-¼", 1-½" and 2" Diameters in 4, 6 and 8 flutes. Exxtral Plus coating (AlTiN) is recommended for optimal performance.