July 01, 2015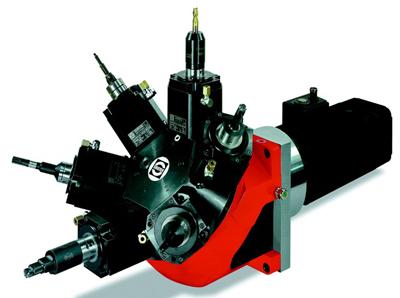 Available from ITI Tooling Co. Inc., the SAUTER family of crown-type live tool turrets, typically used on multi-station and in-line transfer machines, has recently been upgraded and expanded, with the largest having a standard drive motor rating of up to 20 hp.
This "series" of ultra high-speed and agile tool turrets uses a single motor for both turret indexing and live tool drive. Available with four, six or eight tool positions that are complemented with a wide variety of standard "off-the-shelf" tool spindles, which use HSK quick-change toolholding adaptors. Multi-tool and special tool spindles are also available to meet specific application requirements.
These tool turrets can be used in any orientation and are lubricated for life, alternatively, they can be connected to a central lubrication system, extending MTBF and reducing maintenance. With a rugged design and standard features such as tool speeds up to 15,000 rpm, bidirectional high-speed indexing, a non-lifting tool carrier, high-speed/high-torque tool spindles and an integral high-pressure coolant distribution system, these tool turrets are the ideal choice for medium- and high-volume production machines for all industries, according to the company.
The crown-type tool turret is suited in machining stations on transfer lines, dial machines and special purpose machinery. These turrets have been particularly successful in the automotive, appliance and aircraft component industries, as well as in many other areas involving high-performance cutting operations.
Related Glossary Terms
coolant


coolant

Fluid that reduces temperature buildup at the tool/workpiece interface during machining. Normally takes the form of a liquid such as soluble or chemical mixtures (semisynthetic, synthetic) but can be pressurized air or other gas. Because of water's ability to absorb great quantities of heat, it is widely used as a coolant and vehicle for various cutting compounds, with the water-to-compound ratio varying with the machining task. See cutting fluid; semisynthetic cutting fluid; soluble-oil cutting fluid; synthetic cutting fluid.