May 29, 2019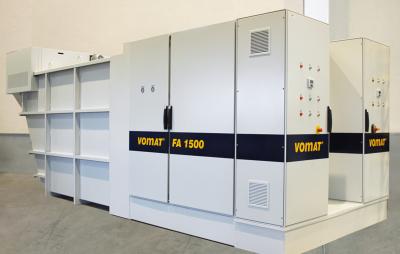 VOMAT (which stands for Vogtländische Maschinen- und Anlagentechnik) has made a name for itself in the metalworking industry with its individually tailored filtration systems for coolants, along with their stable cooling in the tool grinding industry and other processes. VOMAT's product portfolio includes modular solutions for individual systems, central systems and customer-specific special systems with central and decentralised functions. VOMAT provides systems for carbide and HSS applications but also for other materials such as cermet, ceramics and diamond.
Demanding grinding applications require a powerful filtration system that supports and has a positive impact on the process flow. Fine filtration allows grinding oils to remain in the system for longer periods of time. Cleanly filtered coolants also help to increase the dimensional accuracy and surface quality of the manufactured tools. In addition, the appropriate filter system reduces energy use and disposal costs.
VOMAT fine filtration systems can be used in conjunction with tool grinding machines for carbide or HSS machining or for a mix of the two. They are available in various sizes: Standard flow rates are 70 liters/minute (size 1.30 m x 1.10 m x 1.20 m - L x W x H), 120 to 420 liters/minute (size 1.60 m x 1.0 m) and 460 to 960 liters/minute (size 2.50 m x 1.40 m x 1.0 m).
Steffen Strobel, head of technical sales at VOMAT states: "VOMAT filtration systems grow with the changing needs of a customer. Standard systems can be adapted to increased or individual requirements by means of different expansion modules, such as a variety of cooling concepts, machine pumps, additional tanks and recycling possibilities. In addition, VOMAT can provide large-scale industrial central systems with optimal cooling and disposal solutions. These systems can be scaled up in 1,200 liter increments and can be easily integrated into the respective workflow."
VOMAT combines many design innovations into high-performance filtration units. Full-flow filtration with high-performance filters guarantees 100% separation of dirty and clean oil. During filter back-flush, clean oil is always available at the nominal flow rate of the system meeting quality class NAS 7 (3-5 µm). In addition VOMAT systems flush and filter automatically as required. This means the backwashing cycles are controlled by the degree of filter element contamination. It also allows the user to produce at full speed at all times. Low heat input into the medium and reduced energy consumption are further advantages of VOMAT technology. In addition, the sludge volume is reduced with minimal oil loss.
Strobel stated: "Low-maintenance filters allow the coolant to stay in the system for an extremely long time with a high degree of purity. Among other things, this provides for extended grinding wheel life and less machine downtime. The high control accuracy of the cooling system, just +/- 0.2 K, keeps the coolant at a consistent temperature level which is an essential prerequisite for producing high quality tools."
VOMAT's FA 1500 system provides tool manufacturers and regrinders with a highly efficient, low-maintenance ultrafine filtration system for grinding large batches of HSS tools. With a tank volume of 10,000 liters, a filter capacity of 1,500 liters/minute and a special drying unit, the FA 1500 is designed to handle large production batch sizes. The 200 kW cold water cooling system maintains a 24° C oil temperature during continuous operation with a temperature accuracy in the range of +/- 0.2 K. Optionally, VOMAT offers compressor cooling units with external condensers also designed with high control accuracy.
With the vacuum belt filter UBF providing filtration fineness from 3 to 25 µm, VOMAT has a system in its line-up which is suited to the filtration of oils and emulsions which are contaminated with steel, HSS, binding agents or grinding wheel particles.
Strobel said: "Thanks to a specially designed belt system, the vacuum belt filter takes up around 70% less space than conventional systems while delivering 100% of the output. In comparison to any competitive system on the market, we expect the filter performance to be three times higher per square meter. This represents significant cost benefits in terms of expensive production space."