September 01,2014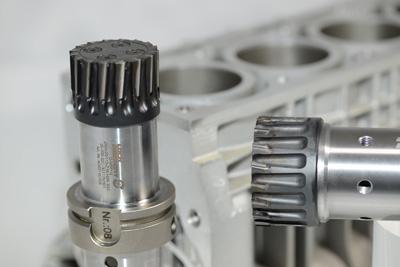 Lach Diamond offers the >>Cool Injection-Plus<< PCD cutter developed in cooperation with the AUDI AG. This represents a combination of the toolmaker's >>Cool Injection<< cooling system (Patent EP 2266739) and the >>Plus<< chip controller for cutting of aluminum patented by the AUDI AG.
The solution to combine the directed cooling stream through the PCD cutting surface with the chip control into one tool proved to be ideal for manufacturing, according to the company.
The monoblock cutters can be manufactured with a high PCD number of cutting edges because the chips produced during cutting can immediately be led away from the cutting zone. It is understandable that during machining the work piece and the PCD cutting edge both profit, once by the maximum possible surface quality and accuracy and again by the maximum tool life of the PCD cutter. Result: The chips now do not have to be "cut" several times.
Cycle time reductions of more than 50 percent have been achieved by the automobile industry, especially in engine and transmission manufacturing.
The PCD cutters are delivered complete, ready for installation and can be put on the machine without the otherwise time-consuming adjustment measures.
Related Glossary Terms
extreme pressure additives ( EP)


extreme pressure additives ( EP)

Cutting-fluid additives (chlorine, sulfur or phosphorus compounds) that chemically react with the workpiece material to minimize chipwelding. Good for high-speed machining. See cutting fluid.

polycrystalline diamond ( PCD)


polycrystalline diamond ( PCD)

Cutting tool material consisting of natural or synthetic diamond crystals bonded together under high pressure at elevated temperatures. PCD is available as a tip brazed to a carbide insert carrier. Used for machining nonferrous alloys and nonmetallic materials at high cutting speeds.