May 01,2010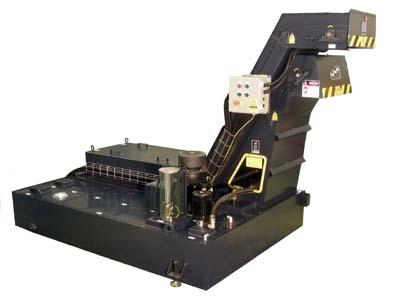 Mayfran International has introduced the ConSep Flex universal chip conveyor/separator, an innovative new system that efficiently handles a full range of materials and chip types while also cleaning coolant at the machine tool. Based on Mayfran's ConSep chip removal conveyor and coolant filtration technology, the ConSep Flex combines the features of a hinged steel belt conveyor for optimal removal of most chips and turnings, with a scraper/drag conveyor for removing finer chips. The addition of magnetic bed technology captures ferrous fines such as machined cast iron, which are removed by the scraper. ConSep Flex features an integrated coolant filtration unit. The coolant filtration unit is flexible and can be specified to treat either light oil or water-soluble coolant with equal effectiveness, according to the company. It is equipped with a permanent media self-cleaning drum filter when combined with the permanent magnetic bed, cleans coolant to 50µm, removing up to 95 percent of ferrous fine particles by weight, extending both tooling and coolant life. The process can be viewed through a clear access panel for visual inspection and verification of the cleaning action. The filtered coolant is transferred to a clean coolant tank for return to the machine tool. The combination of the drum filter and magnetic bed significantly extends the life of coolant and reduces downtime for tank cleanout, resulting in a rapid system payback. For water-soluble coolants, the addition of a Mayfran AT-Cleaner coolant cleaning system, a maintenance- and media-free coolant filter unit that easily integrates with the ConSep Flex system, permits cleaning down to 10µm. Removal of fines results in a less abrasive, gritty coolant flowing back into the machining process, reducing wear on machine components and tooling while maintaining part quality.
Related Glossary Terms
abrasive


abrasive

Substance used for grinding, honing, lapping, superfinishing and polishing. Examples include garnet, emery, corundum, silicon carbide, cubic boron nitride and diamond in various grit sizes.

coolant


coolant

Fluid that reduces temperature buildup at the tool/workpiece interface during machining. Normally takes the form of a liquid such as soluble or chemical mixtures (semisynthetic, synthetic) but can be pressurized air or other gas. Because of water's ability to absorb great quantities of heat, it is widely used as a coolant and vehicle for various cutting compounds, with the water-to-compound ratio varying with the machining task. See cutting fluid; semisynthetic cutting fluid; soluble-oil cutting fluid; synthetic cutting fluid.