May 13, 2013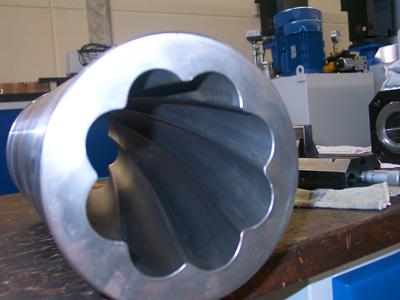 If there ever was a process taken for granted and not appreciated it is Keyseating! This fundamental and traditional method to cut keyways in bores has been stagnant and without development for many decades. Yet the quality and sophistication of the components with keyways have greatly improved through smaller tolerances, more exotic materials and greater load carrying abilities. Keyways in high dollar value hubs or gears which have been processed to near completion using CNC turning and possibly grinding operations are often trusted with an antique keyseater for one of the final steps of production. Or worse yet, manually broached by hand in a press using shims to control the final depth!
Leistritz, a German machine tool builder, has a line of Keyseaters to match the control and flexibility needed by today's manufacturers to produce a straight and accurate keyway. Their CNC keyseaters are very well suited for cutting small keys yet heavy duty enough for huge keyways, up to 7" wide, as well. The CNC is a valuable time saving device and can optimize the cutting parameters through fully flexible programming of feedrates and cutting speeds, as well as variable depths, if required. The CNC also allows the addition of a rotary table to produce helical grooves for special applications or multiple grooves within a single bore.
Leistritz has also developed keyseaters with linear motors to make full use of modern cutting tool materials, including carbide to cut keyways in already hardened workpieces. The linear motor systems produce the high cutting speeds required to match that needed by the tooling and to shorten the cycle times for a production environment.
With machine strokes up to 60" these machines can cut a wide variety of grooves in steels previously un-thought of with little investment in both tooling and capital.