June 01, 2015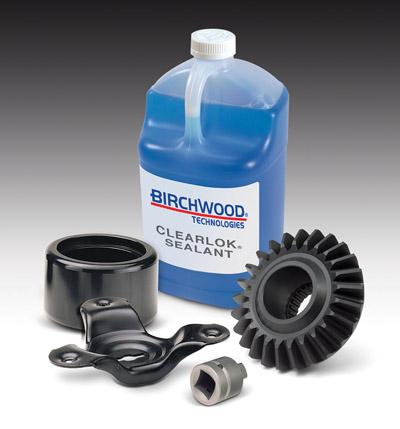 Birchwood Technologies offers two "all purpose" CLEARLOK water-based sealants formulated to provide a protective topcoat on most metal surfaces. CLEARLOK is available in two forms: CLEARLOK Clear Urethane Sealant for super hard finishes, and CLEARLOK MAX for faster drying and easier removal in alkaline soak cleaners.
CLEARLOK Clear Urethane Sealant is a heavy-duty, urethane polymer sealant that forms a hard, glossy protective coating. It works well on black oxide finishes on iron and steel, black finishes on aluminum, and on non-finished iron, steel and aluminum surfaces. This sealant can be used to enhance the gloss and overall appearance of the final finish. CLEARLOK polymer sealant adds a quality "look and feel" to hand tools, automotive components, and machined components. The final protective coating thickness is 0.0001 to .00003 inches. It is rated for corrosion resistance of 24 hours of neutral salt spray or two hundred hours of humidity exposure.
CLEARLOK MAX is a water emulsion blend of acrylic polymers and rust inhibitors that forms a clear protective coating. This finish serves as an ideal topcoat for black oxide or other surface coatings. It can also be applied directly to clean or shot-blasted metal surfaces such as bare steel, aluminum, nickel and zinc plating. This sealant is suited for use on hand tools, machine components, power transmission components, pumps, valves and oilfield equipment. Once dry to the touch, the parts are ready for assembly or packaging. The final protective coating thickness is about .002 inches.
Related Glossary Terms
black oxide


black oxide

Black finish on a metal produced by immersing it in hot oxidizing salts or salt solutions.

corrosion resistance


corrosion resistance

Ability of an alloy or material to withstand rust and corrosion. These are properties fostered by nickel and chromium in alloys such as stainless steel.

emulsion


emulsion

Suspension of one liquid in another, such as oil in water.