June 15, 2022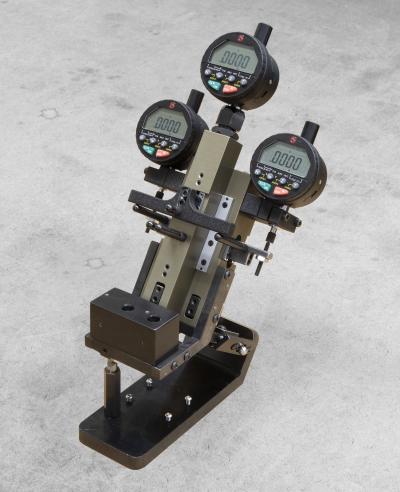 The L.S. Starrett Co., a global manufacturer of precision measuring tools and gages, metrology systems and more, has introduced a custom designed and manufactured Chordal Height Gage (a.k.a. DO Gage) to be used for measuring the opening heights of turbine vanes at specific locations to verify that an aircraft engine will get proper air flow. The new Chordal Height Gage is part of the Starrett line of special area flow gages. Even with the availability of hundreds of standard precision tools and gages, sometimes measuring challenges are best solved with a specially made gage, so the Starrett Special Gage Division designs and builds dimensional measuring instruments that provide guaranteed performance to meet customer specifications. 
"Generally, to take turbine area flow measurements an operator must take the nozzle off the production line and bring it to an automated inspection machine, such as a CMM. However, the special Chordal Height Gage allows for rapid in-process verification of these parts, eliminating time lost on additional teardown and setup of machinery," said Kyle Webber, Starrett Special Gage Division Engineer. 
The size of the Chordal Height Gage is determined based on the specific application it will be used on, and the new gage is no larger than a tissue box. Despite the small footprint of the gage, it has three independent probes which are used to take measurements, including a free-floating central gage body which allows the middle probe to take accurate readings along the trailing edge, regardless of the variable contours which are often on these nozzles. The gage is built in a "Lazy-L" shape to enable linear readings to be taken perpendicular to the trailing edge of the blades, giving a dimension for the smallest opening that air can flow through. These features help contribute to the accuracy and repeatability of the Chordal Height Gage, which is within 0.0005", although the indicator readouts are generally set to a 0.001" resolution per customer requirements. 
For more information on Starrett Special Gages, email specialgage@starrett.com.
Related Glossary Terms
metrology


metrology

Science of measurement; the principles on which precision machining, quality control and inspection are based. See precision machining, measurement.