May 13, 2013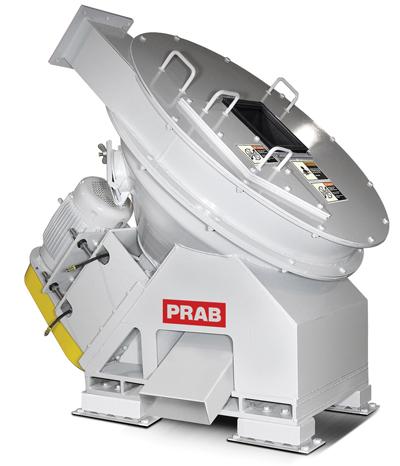 PRAB's centrifuge/wringer efficiently adds value to scrap metal while reclaiming up to 98 percent of valuable cutting fluids. In addition, dry chips ensure compliance with EPA regulations when transporting for recycling.
Mike Hill, VP of Sales and Marketing of PRAB noted, "Processing chips and fluid prior to transport not only saves valuable floor space within the plant, but also offers higher market value for scrap metal, and dramatically reduces fluid disposal costs and transport risk."
PRAB's engineered diagonal design works with gravity to feed flowable, wet chips from an input conveyor. The straight-line feed eliminates choke points and facilitates uninterrupted material flow. The centrifugal motion within the rotating bowl creates 700 g of force, driving chips and fluid up the bowl liner. Fluids are then extracted through the bar screen and diverted for reclamation. Dry chips are discharged for recycling, or conveniently briquetted and stored for future sales. Process rates of up to 10,000 lb/h can be achieved.
"The use of a centrifuge for collecting fluid is a good way to cut annual coolant expenditures. Once the fluid is collected, PRAB Fluid Filtration Systems can perform the liquid-solid and liquid-liquid separation necessary for effective fluid reuse," stated Tim Hanna, PRAB Managing Director.
Related Glossary Terms
centrifuge


centrifuge

Filtering device that uses a spinning bowl and the differences in specific gravities of materials to separate one from another. A centrifuge can be used to separate loosely emulsified and free oils from water-diluted metalworking fluid mixes and to remove metalworking fluids from chips.

coolant


coolant

Fluid that reduces temperature buildup at the tool/workpiece interface during machining. Normally takes the form of a liquid such as soluble or chemical mixtures (semisynthetic, synthetic) but can be pressurized air or other gas. Because of water's ability to absorb great quantities of heat, it is widely used as a coolant and vehicle for various cutting compounds, with the water-to-compound ratio varying with the machining task. See cutting fluid; semisynthetic cutting fluid; soluble-oil cutting fluid; synthetic cutting fluid.

feed


feed

Rate of change of position of the tool as a whole, relative to the workpiece while cutting.