March 30, 2021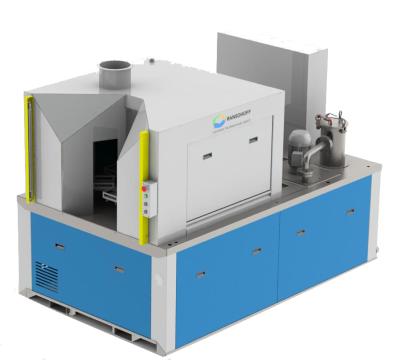 Ransohoff, a division of the Cleaning Technologies Group LLC, has introduced its Cell-U-Clean Return to Load (RTL) spray cabinet. This new small footprint platform provides an energy efficient, reliable solution for your high-volume cleaning needs, along with an innovated design for those smaller part cleaning applications.
The Return to Load, a member of our Cell-U-Clean line of parts washers, is an excellent cabinet return to operator washer for parts up to 40 Lbs. where floor space comes at a premium. This low-cost spray washer was designed as a high-capacity solution with low energy usage. The RTL platform comes standard as a wash blowoff unit but can be configured with an additional liquid stage when rinsing or a rust protection application is required.
The new Cell-U-Clean RTL is a wash and blow-off machine in a small footprint of 5 ft. wide x 8 ft. long x 6.8 ft. tall. The part production rate is up to 120 Parts Per Hour, with a variable speed table drive. The Cell-U-Clean RTL is constructed of all stainless steel and comes with a robot loading option. The new Cell-U-Clean RTL comes standard with the industry leading 3-2-1 warranty.