September 18, 2019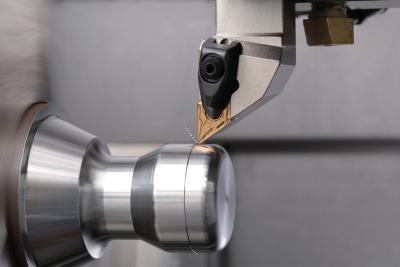 Kyocera Precision Tools introduces a CVD-coated cermet grade for production in a wide range of finishing applications. The CCX Grade is a new technology composed of a unique, high-strength cermet insert with a thick layer of CVD coating.
The CVD coating on the CCX line provides superior wear resistance to increase tool life. The high-speed finishing capability of the CCX inserts is a huge advantage for highly efficient machining in low-carbon steel, general steel and cast-iron applications.
Related Glossary Terms
chemical vapor deposition ( CVD)


chemical vapor deposition ( CVD)

High-temperature (1,000° C or higher), atmosphere-controlled process in which a chemical reaction is induced for the purpose of depositing a coating 2µm to 12µm thick on a tool's surface. See coated tools; PVD, physical vapor deposition.

wear resistance


wear resistance

Ability of the tool to withstand stresses that cause it to wear during cutting; an attribute linked to alloy composition, base material, thermal conditions, type of tooling and operation and other variables.