December 19, 2017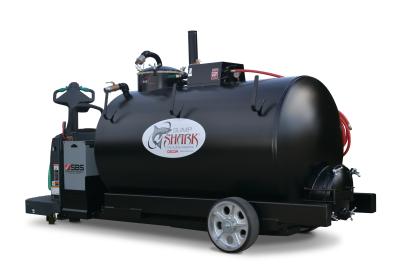 Move a sump cleaner safely through plant between collection, treatment or disposal with CB6 walk/ride transport base. Sump cleaner is mounted on a battery-powered pallet truck with stand on platform for easy driving.
Off the truck, operator can use controls to maneuver unit into tight spots and next to machine tools for sump cleaning. Sump cleaner uses high suction lift to remove coolant, chips and sludge from sump. Solids are caught in patented CECOR filter, while coolant passes into the tank. Operator can then drive unit to reclamation or disposal station.
The CB6 walk/ride pallet truck operates on a 24-volt battery. With a tight turning radius, the pallet truck maneuvers through narrow aisles and around tight corners. The base has a battery charge indicator and automatic charger. It also features a high-tech speed controller with adjustable acceleration/braking.
Related Glossary Terms
coolant


coolant

Fluid that reduces temperature buildup at the tool/workpiece interface during machining. Normally takes the form of a liquid such as soluble or chemical mixtures (semisynthetic, synthetic) but can be pressurized air or other gas. Because of water's ability to absorb great quantities of heat, it is widely used as a coolant and vehicle for various cutting compounds, with the water-to-compound ratio varying with the machining task. See cutting fluid; semisynthetic cutting fluid; soluble-oil cutting fluid; synthetic cutting fluid.

turning


turning

Workpiece is held in a chuck, mounted on a face plate or secured between centers and rotated while a cutting tool, normally a single-point tool, is fed into it along its periphery or across its end or face. Takes the form of straight turning (cutting along the periphery of the workpiece); taper turning (creating a taper); step turning (turning different-size diameters on the same work); chamfering (beveling an edge or shoulder); facing (cutting on an end); turning threads (usually external but can be internal); roughing (high-volume metal removal); and finishing (final light cuts). Performed on lathes, turning centers, chucking machines, automatic screw machines and similar machines.