April 23,2021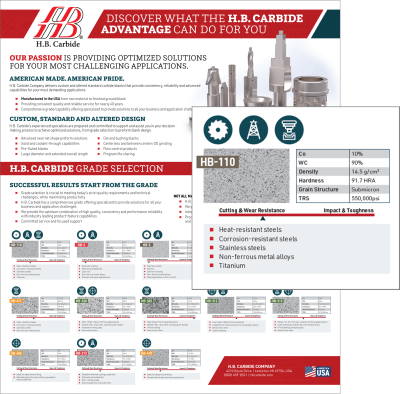 H.B. Carbide has developed a grade selection chart to help guide customers in their decision-making regarding the appropriate grade for their application. The 22.25" x 25.75" chart provides technical information on each of the grades such as grain structure, hardness, cobalt content, etc. as well as the materials applications they are best suited for. Additionally, each grade is associated with appropriate industries – Automotive, Defense, Energy, Wear & Die.

The selection chart is available for free download at https://www.hbcarbide.com/grade-chart/ or full-size chart can be mailed by calling (800) 459-8521 and requesting a copy.
Related Glossary Terms
hardness


hardness

Hardness is a measure of the resistance of a material to surface indentation or abrasion. There is no absolute scale for hardness. In order to express hardness quantitatively, each type of test has its own scale, which defines hardness. Indentation hardness obtained through static methods is measured by Brinell, Rockwell, Vickers and Knoop tests. Hardness without indentation is measured by a dynamic method, known as the Scleroscope test.