June 01, 2010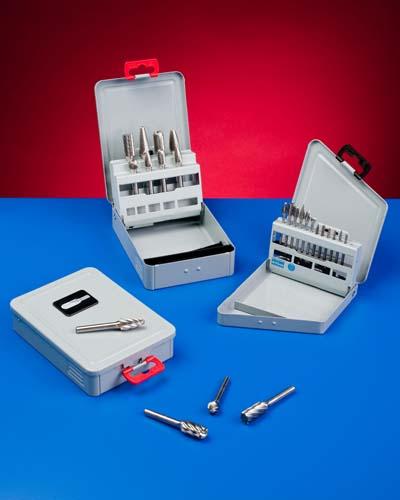 Three new carbide bur kits that are for specific tasks and come packaged in metal storage boxes to fit into a machinist's toolbox are being introduced by Rex-Cut Products Inc. Carbide bur kits include conical, round, cylindrical and barrel-shaped burs that are manufactured from grade-K20 micrograin carbide and heat-treated HSS shanks. Packaged in handy metal boxes, three kits are offered: four-piece ¼" shank aluminum cut bur kit, eight-piece ¼" shank double-cut kit, and 12-piece 1⁄8" shank double-cut bur kit. All 100 percent torque tested for high reliability and long life, the burs were selected for each Rex-Cut kit to provide machinists with an affordable selection that correspond to their typical job requirements, according to the company. Carbide bur kits are list priced from $77.23 to $116.62.
Related Glossary Terms
bur


bur

Tool-condition problem characterized by the adhesion of small particles of workpiece material to the cutting edge during chip removal.

high-speed steels ( HSS)


high-speed steels ( HSS)

Available in two major types: tungsten high-speed steels (designated by letter T having tungsten as the principal alloying element) and molybdenum high-speed steels (designated by letter M having molybdenum as the principal alloying element). The type T high-speed steels containing cobalt have higher wear resistance and greater red (hot) hardness, withstanding cutting temperature up to 1,100º F (590º C). The type T steels are used to fabricate metalcutting tools (milling cutters, drills, reamers and taps), woodworking tools, various types of punches and dies, ball and roller bearings. The type M steels are used for cutting tools and various types of dies.

shank


shank

Main body of a tool; the portion of a drill or similar end-held tool that fits into a collet, chuck or similar mounting device.