June 01, 2015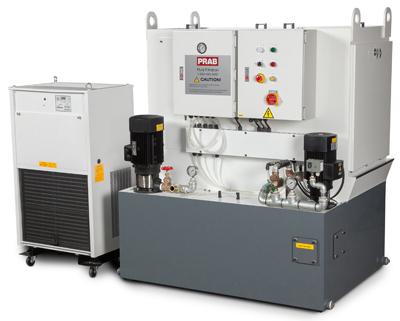 PRAB's Candle Filter is specifically engineered to meet the challenges of effectively removing fine particulate from spent oil in Honing and EDM machining applications and Tungsten carbide tool and steel ball grinding applications. This new filter uses a permanent media in a long cylinder that houses over 10,000 thin membrane wafers. These membranes effectively and consistently capture grinding swarf at 1µm. These dependable filters operate with virtually no downtime for maintenance. The self-cleaning, air driven backwash system automatically clears the filter of dirt and debris allowing the Candle Filter to perform reliably under long production runs.
• Engineered for oil filtration in EDM, tungsten carbide tool grinding, electrical discharge machine, honing machine, and bearing grinder applications.
• Permanent membrane wafers trap grinding swarf at 1-3µm.
• Automatic air pressure back flush cycle reduces labor costs and increases process efficiency.
• Swarf and oil is purged into an external receptacle for easy collection and recycle.
• Optional chiller ensures constant fluid temperature, varying only 1-3°F, to maximize tool life and part quality.