February 01, 2015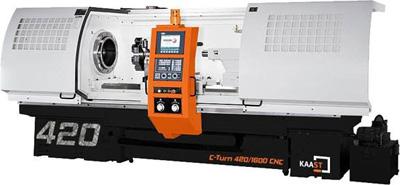 High-performance CNC lathes are available from Kaast Machine Tools with a large spindle bore (6", 9", 12" or 14") and double chuck system. Swings are available from 18" up to 51" with lengths from 40" to 244". Spindle motor range from 7.5Hp to 60Hp. They are carefully crafted with accuracy and high-performance in mind, according to the company. Even a standard machine is exceptional in that the user does not need to have previous knowledge of CNC programming or G-code background.
These machines are very user-friendly. The headstock is manufactured from thick wall and heavily ribbed casting to provide a smooth and quiet turning machine. All gears and shafts are precisely hardened and ground for their best performance. The main spindle is precision machined and ground from large one-piece forging allowing spindle speeds up to 3,100rpm. The bed is made of high grade Meehanite cast iron with maximum stability to absorb cutting forces and dampen vibrations. The bedways are hardened and precision ground (HRC 55-60).
All slide ways and drive elements are automatically lubricated. The undersides of the saddle as well as cross slide are coated with Turcite-B to ensure accuracy and long life to use. The optional automatic tool changing systems H4, V8 or V12 Turret) provide high performance and high productions with flexible and accurate tooling, which is reportedly optimized to meet the most demanding job schedule.