August 02, 2016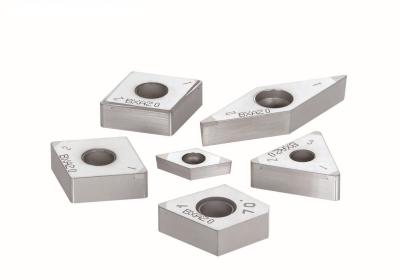 Tungaloy Corp. is launching the BXA20 series, a new coated PCBN grade for machining hardened steel. BXA20 delivers predictable and long tool life in a range of applications from roughing to finishing, including descaling of case hardened steel, which usually requires a large stock to be removed. This PCBN grade exhibits excellent wear and fracture resistance in a low to medium cutting speed range, with enhanced tool life in continuous as well as interrupted cuts.
The BXA20 series is available with a built in wiper for a superb surface finish at high feed rates or a chipbreaker for smooth chip control in large stock removal, covering a wide variety of applications.
Main features:
BXA20's multi-layered PVD coating is twice as thick as the conventional grade to improve wear resistance. The top most layer of the coating has a very low coefficient of friction to help reduce crater wear. This multilayered PVD coating with enhanced adhesion strength increases chipping and peel off resistances, thus assuring stable and long tool life.
The dedicated carbide substrate withstands a heavy load of interrupted cutting and large depth of cut machining.
With a bright silver finish, used corners can easily be identified.
Additional Products from Tungaloy America Inc.