March 06, 2017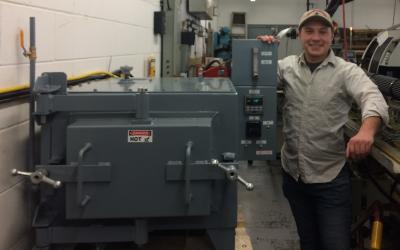 R. Hueter Co, Beverly, Mass., a CNC machine shop specializing in male and female RF connector contact production, has added a Lucifer Furnaces' heat treating oven to meet their growing heat treating needs. Adam Hueter, operations manager, chose Lucifer Furnaces because of their reputation for delivering high-quality products at an affordable price.
Model 42GT-H12 was customized as a benchtop unit. With a chamber size of 9" x 12" x 12", this oven is insulated with 5" of both insulating firebrick and mineral wool backup. The 4 KW power allows fast heat up to 1200° F. GT ovens, built for operation using inert atmosphere, are crafted with a continuously welded outer steel shell and gasketed roof plate.
A strong seal on the double-pivot door is achieved with a square gasket around the door perimeter to form a tight seal to the oven face-place. Swing bolts with T handles make clamping easy. The stainless-steel liner baffles the work chamber from the side wall heating elements and directs the air flow horizontally through the chamber for uniform heating.
Hueter choose a Honeywell DC2500 temperature controller with a soak timer to shut off heating elements at the end of a programmed cycle in addition to a flow meter mounted and piped to the oven for easy connection its atmosphere supply. Hueter plans to use the furnace primarily around 600 °F for 2-hour cycles to achieve a specific Rockwell hardness with small lots of Becu pins under a nitrogen atmosphere to reduce surface oxidation in order to achieve a scale free, bright finish. After installation, Adam noted, "Right now the oven is running like a dream. I am completely satisfied with my Lucifer Oven and your team has given me great support along the way."
Related Glossary Terms
computer numerical control ( CNC)


computer numerical control ( CNC)

Microprocessor-based controller dedicated to a machine tool that permits the creation or modification of parts. Programmed numerical control activates the machine's servos and spindle drives and controls the various machining operations. See DNC, direct numerical control; NC, numerical control.

hardness


hardness

Hardness is a measure of the resistance of a material to surface indentation or abrasion. There is no absolute scale for hardness. In order to express hardness quantitatively, each type of test has its own scale, which defines hardness. Indentation hardness obtained through static methods is measured by Brinell, Rockwell, Vickers and Knoop tests. Hardness without indentation is measured by a dynamic method, known as the Scleroscope test.