February 22, 2018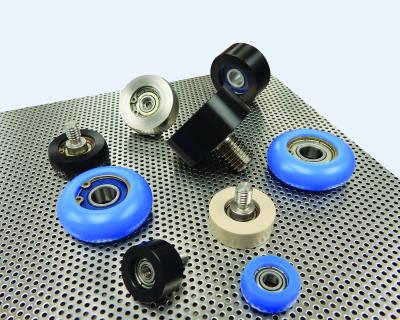 Fixtureworks introduces an extensive lineup of bearing wheel covers from Fairlane Products. These bearing wheel assemblies are in stock and ready to ship to help reduce potential lead times and eliminate sourcing problems and tooling costs. To help facilitate the user's needs, there is no minimum order quantity and custom modifications are also available.
Industrial bearing wheel covers are ideal for a wide range of applications. Typical applications include for use as track wheels and guide rollers, components of conveyors and automation systems, and for general industry.
Each bearing wheel cover assembly includes a cover, snap ring, radial ball bearing, and when specified, a stud for mounting. Standard OD sizes that range from 0.75 to 1.50 inches. The covers are made from polyacetal, nylon, UHMW, PEEK, urethane, steel or stainless steel. Cover material is selected for general use, chemical resistance, abrasion resistance or corrosion resistance, depending on the selection.
The surfaces are flat, crowned or radial to meet a variety of application needs. The steel and stainless steel bearings are retained by a snap ring. The low-profile stud is permanently swaged to replace the need for a nut, bolt and spacer.
Related Glossary Terms
corrosion resistance


corrosion resistance

Ability of an alloy or material to withstand rust and corrosion. These are properties fostered by nickel and chromium in alloys such as stainless steel.

flat ( screw flat)


flat ( screw flat)

Flat surface machined into the shank of a cutting tool for enhanced holding of the tool.

outer diameter ( OD)


outer diameter ( OD)

Dimension that defines the exterior diameter of a cylindrical or round part. See ID, inner diameter.