December 27, 2018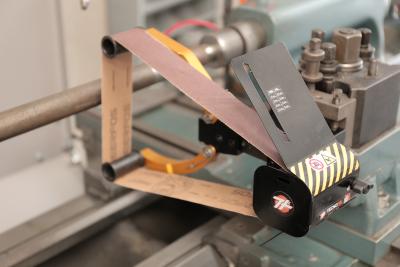 The lack of effective protection on industrial machines is a leading safety concern, ranking among the top 10 most frequently cited violations by OSHA, and one that puts thousands of operators at risk for catastrophic injuries. Metal lathes are dangerous machines that can cause serious injury. Of the lathe's many dangers, the life-threatening hazard of entanglement can cause amputations, dismemberment and death. Entanglement is a risk whenever lathe operators use emery paper to sand or polish a rotating shaft. Without warning, the paper may wrap itself around the shaft, entangling the operator's gloved hand, hair or loose clothing at over 1,000 rpm.
As part of its ongoing commitment to empower organizations to create safer work environments and comply with OSHA standards, Rockford Systems LLC has introduced an automatic sanding belt holder that enables lathe operators to sand, polish and deburr while keeping hands away from rotating parts and at safe operating distance away from the spinning shaft and, thereby, helping to prevent entanglement.
Simple to install and use, the belt holder fixes to conventional lathes' existing tool-case turrets with the quick turn of a screw. An automated patented sliding system leverages the rotating movement of the workpiece, whether it is metal, alloy or wood, for precise results. Three unique opening positions enable the belt holder to sand machined parts of a wide variety of diameters to maximize its shop floor value while eliminating risk.
The belt holder is available in 25mm and 50mm width models. Both models can hold sanding belts of different sizes and abrasion grits (80/150/180/220/320) to satisfy a wide range of applications.
Lathe-related injuries are preventable and Rockford Systems as been at the forefront of developing products and services that help keep workers safe. Along with its new sanding belt holder, it offers lathe shielding, eStops, wrenches, motor starters, emergency lighting and more.
Related Glossary Terms
lathe


lathe

Turning machine capable of sawing, milling, grinding, gear-cutting, drilling, reaming, boring, threading, facing, chamfering, grooving, knurling, spinning, parting, necking, taper-cutting, and cam- and eccentric-cutting, as well as step- and straight-turning. Comes in a variety of forms, ranging from manual to semiautomatic to fully automatic, with major types being engine lathes, turning and contouring lathes, turret lathes and numerical-control lathes. The engine lathe consists of a headstock and spindle, tailstock, bed, carriage (complete with apron) and cross slides. Features include gear- (speed) and feed-selector levers, toolpost, compound rest, lead screw and reversing lead screw, threading dial and rapid-traverse lever. Special lathe types include through-the-spindle, camshaft and crankshaft, brake drum and rotor, spinning and gun-barrel machines. Toolroom and bench lathes are used for precision work; the former for tool-and-die work and similar tasks, the latter for small workpieces (instruments, watches), normally without a power feed. Models are typically designated according to their "swing," or the largest-diameter workpiece that can be rotated; bed length, or the distance between centers; and horsepower generated. See turning machine.