February 09, 2018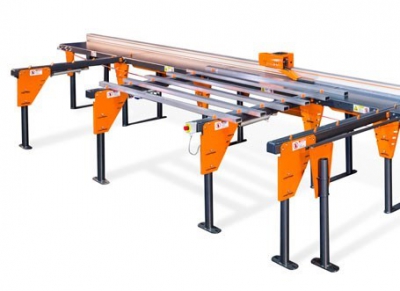 Last year TigerStop announced the addition of the AutoLoader, an automatic infeed station for the TigerSaw 1000 and TigerSaw 2000 fully automated cross-cutting saw systems for wood and metal, respectively. TigerStop announces that the AutoLoader is now compatible with TigerStop automated material pushers and positioners, as well as TigerTurbo high-speed automated pushers for material weighing up to 840 lbs. New and existing TigerStops and TigerTurbos on flat, non-tilted tables can be upgraded to include automatic infeed stations.
Using the AutoLoader, an operator can load five pieces of stock at a time, reducing manual material handling time and increasing operator capacity for performing value-added tasks, such as offloading and sorting finished parts. For additional efficiency, a TigerStop printer can be paired with the AutoLoader so cut parts can be label-printed, facilitating fast, accurate and easy part sorting.

The AutoLoader can accommodate material from 4 to 30 feet in length and can be configured with up to seven stations with section lengths in either 3-foot or 6-foot intervals. "The AutoLoader is a powerful labor efficiency tool," states Rakesh Sridharan, TigerStop CEO. "It will allow TigerStops, TigerTurbos and TigerSaws to run at maximum capacity with a single operator, providing significant savings on labor costs."

AutoLoader Features:
Robust loading station capacity: Each loading station has five dogs designed to move material forward with a pushing capacity of up to 100lbs per set of dogs.
Flexible material length capacities: will accommodate material ranging from 4 feet to 30 feet.
Custom loading station, configurable: Customize the number of Automatic Infeed Stations based on the length of the material needed to process. Integrate anywhere from two to seven stations in 3 or 6 foot increments.
Sensors: Allow loading station to recognize when material is pressed against the back fence, signaling that the material is ready to be processed through the saw and to continue feeding material until more is needed or the cut list is complete.
Safety: Switch and kill line runs the entire length of the infeed station.
Add-on: The AutoLoader can be added to TigerStops, TigerTurbos, TigerSaw 1000 and TigerSaw 2000 fully automated saw systems.
Materials: The AutoLoader is a great solution for processing varying materials whether wood, metal, plastic or composites.
Related Glossary Terms
composites


composites

Materials composed of different elements, with one element normally embedded in another, held together by a compatible binder.

flat ( screw flat)


flat ( screw flat)

Flat surface machined into the shank of a cutting tool for enhanced holding of the tool.

sawing machine ( saw)


sawing machine ( saw)

Machine designed to use a serrated-tooth blade to cut metal or other material. Comes in a wide variety of styles but takes one of four basic forms: hacksaw (a simple, rugged machine that uses a reciprocating motion to part metal or other material); cold or circular saw (powers a circular blade that cuts structural materials); bandsaw (runs an endless band; the two basic types are cutoff and contour band machines, which cut intricate contours and shapes); and abrasive cutoff saw (similar in appearance to the cold saw, but uses an abrasive disc that rotates at high speeds rather than a blade with serrated teeth).