February 26, 2020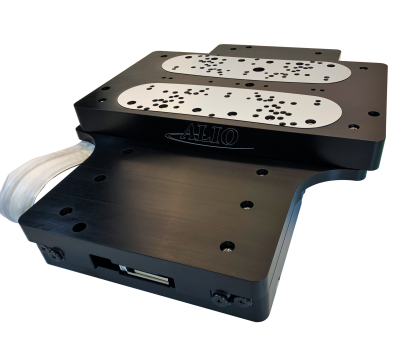 Back in 2001, ALIO Industries started by creating solutions to meet demand from U.S.-based technology providers and manufacturers for nano-precision robotics. From that day to this the company has consistently pushed the boundaries in the achievement of ultimate precision in motion control. It is within this context that ALIO Industries has just announced another innovative nanomater-level precision positioning solution, its new Asymmetric XY stages.
ALIO CEO Bill Hennesey picks up the story. "Over many years, ALIO has been developing precision positioning solutions for applications that do not require identical travel lengths on both the X and the Y axes. All the company's XY solutions are standard monolithic ones, as regardless of the requirement for X and Y travel lengths to be different, the alternative — stacked stages — will always compromise performance. Take a look at what some alternative suppliers do. Frequently, they will offer an XY stack comprised of a single axis crossed roller stage which results in poor static and especially poor dynamic performance related to tuning challenges. In these stacked configurations, the lack of lower axis torsional stiffness and the bending moments of the upper axis greatly limit the dynamic responsiveness of the stage. It's kind of like trying to find stable footing on a diving board that is sitting on a tightrope!"
Before the recent launch of its Asymmetric XY stages, when confronted with the need to work with applications that required the accommodation of X and Y axis travel that were not the same, ALIO would sometimes limit travel on the upper axis of its monolith XY stages. This would save on the overall moving footprint, but the square body of the stage would still be larger and heavier than it would need to be based on the required travel for the application.
Hennessey continues, "ALIO's Asymmetric stages provide a solution with identical performance, lower moving mass, and a smaller static and dynamic footprint compared to their square-body designed, monolithic-series counterparts. They also offer a lower working height than traditional XY stacks and without the tuning limitations of stacked assemblies. They provide customers with the exact X and Y travel ranges needed for their applications without the cost of excess travel that is not required and will never be used."
Three Standard versions with asymmetric body designs/travel lengths are available with customized versions offered for OEM programs.
The company offers an array of precision motion control solutions, which it sees as enabling technologies, used by its customers to make products previously deemed impossible. By working with ALIO, customers are able to manufacture innovative, bleeding-edge products that ensure leadership positions in their respective industries. The Asymmetric stages fit well within the overall stable of ALIO's nanometer-level motion control solutions, and removes some limitations that manufacturers have had to put up with when they require different X and Y axes travel.
Related Glossary Terms
robotics


robotics

Discipline involving self-actuating and self-operating devices. Robots frequently imitate human capabilities, including the ability to manipulate physical objects while evaluating and reacting appropriately to various stimuli. See industrial robot; robot.

stiffness


stiffness

1. Ability of a material or part to resist elastic deflection. 2. The rate of stress with respect to strain; the greater the stress required to produce a given strain, the stiffer the material is said to be. See dynamic stiffness; static stiffness.