February 26, 2020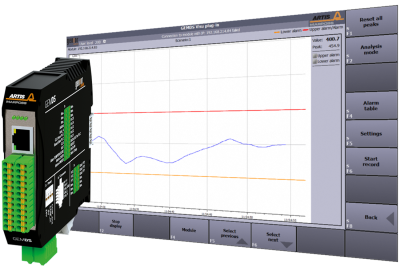 Marposs has announced its new Artis GEMDS system, which uses data from a noncontact eddy current sensor to provide real-time monitoring of spindle elongation on machine tools due to temperature changes or other causes of displacement. By detecting spindle anomalies in real-time, shops can prevent damage to the machine and avoid out of tolerance components, thereby reducing scrap and improving productivity.
The GEMDS system consists of an eddy current sensor, an amplifier, a connecting cable and the GEMDS monitoring module. It can monitor four different sensor signals – one for displacement and three for temperature – providing real-time feedback on critical variations. It has a measuring range of 550 µm and precision down to +0.2 µm.
The GEMDS can function as an intelligent stand-alone solution that is installed on a mounting rail in the switch cabinet. All necessary interfaces are available for easy integration into existing controls, network environments and Industry 4.0 solutions. As part of the Genior Modular product family, it can also be integrated into a Genior modular monitoring system for process monitoring purposes, making it a flexible solution that can adapt to changing needs.
The system can be managed by using eight different operating scenarios and five different static alarms for each scenario. The display and control software run on Windows (WIN 7/10) machine control panels or Siemens Linux systems (TCU). The software can be installed on 7" or 10" industrial PCs from Marposs or any Windows PC (WIN 7/10).
Related Glossary Terms
elongation


elongation

In tensile testing, the increase in the gage length, measured after fracture of the specimen within the gage length, usually expressed as a percentage of the original gage length.

tolerance


tolerance

Minimum and maximum amount a workpiece dimension is allowed to vary from a set standard and still be acceptable.