May 04, 2017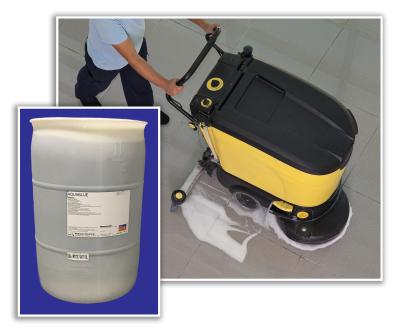 Madison Chemical introduces AquaBlue, an alkaline detergent for general floor cleaning. This water-based degreaser has excellent penetrating and wetting properties, allowing fast removal of dirt, oil, grease, tire marks and other soils from industrial floor surfaces–even painted ones.
This environmentally friendly product has no SARA 313 reportables (no butyl cell or glycol ethers), zero V.O.C. content, no caustic mists, and a health hazard rating of 1 so it does not impact waste treatment. It rinses easily and completely so there is no slippery residue. Versatile AquaBlue is ideal for use with floor scrubbers, mop buckets or spray wand. In addition to floor cleaning, it can be used for cleaning of machinery, equipment and engines, allowing a single cleaner/degreaser to replace specialty cleaning products, thus reducing inventory costs and streamlining the process.
With an application rate of 1 – 7% by volume, it provides improved results on other leading degreasers with less concentration. Single application cleaning eliminates costly over-use and saves time and labor.
AquaBlue is acceptable for use in food and beverage plants as an A1 general cleaning agent on all surfaces, or for use with steam or mechanical cleaning devices in all departments.