October 13, 2012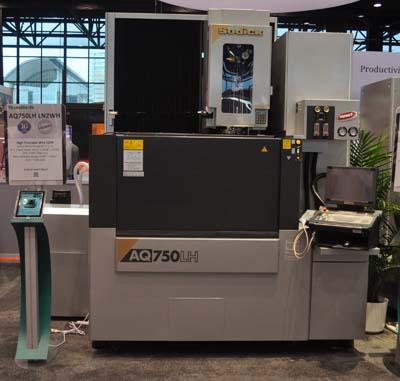 Sodick Inc. is releasing two new machines, the AQ750LH and the AQ1200LH. The AQ Series line of Wire EDMs is Sodick's largest. These two new additions are taking the largest Wire EDMs to new heights with an expanded Z height. Following in the quality and precision of the Sodick culture, all AQ models have linear motor drive technology as standard and are provided with a 10-Year Positioning Accuracy Guarantee.
The AQ Series was initially created in response to the growing demand for large capacity Wire EDMs featuring extreme taper capability. The models are often ideally suited for Automotive Molds and Dies, Aerospace and Energy applications including parts; such as, turbine hubs, aerofoil vanes, instrument panels and bumpers.
The AQ750LH features a 24" Z cutting capacity and a fixed table design which allows for a workpiece with greater weight to be machined without affecting the table positioning or workpiece accuracy. Additional standard features include an L-Cut Wire Chopper, High Speed Generator, Low Maintenance Tank Seal, Multi-Filtration System, Wire Jumbo Feeder, Super Jet AWT and Vertical Sliding Tank Door. The X, Y travel on this machine is 29.53" x 16.68".
The AQ1200LH, which also features a 24" Z axis, has an X, Y travel of 47.24" x 31.50".
The AQ models provide industry unique UV axis travels which allow extreme taper angles (up to 45 degrees) to be machined to the full Z capacity of the model. As the UV travels are larger than the XY movements, tapering can even be performed beyond the normal XY travels of the machine.
The control incorporates collision protection to prevent against operator error. This technology constantly monitors voltage in the axes drives. When voltage exceeds a pre-determined load, the machine will stop and give the operator an error message. With a linear motor drive system; there is no mechanical connection between the linear motor drives and the table; unlike ballscrew drives, which can incur costly repairs in the event of a collision.
The control also features automatic machining condition selection. This is a database within the machine that contains details on the best conditions for a particular wire diameter, workpiece material or workpiece thickness and ensures the best possible machining results. The operator can make use of the extensive conditions provided by Sodick or add their own conditions to suit unusual applications.
Related Glossary Terms
linear motor


linear motor

Functionally the same as a rotary motor in a machine tool, a linear motor can be thought of as a standard permanent-magnet, rotary-style motor slit axially to the center and then peeled back and laid flat. The major advantage of using a linear motor to drive the axis motion is that it eliminates the inefficiency and mechanical variance caused by the ballscrew assembly system used in most CNC machines.