November 05,2018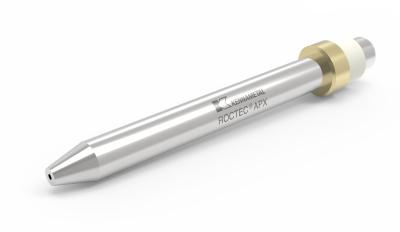 The Kennametal APX series of ROCTEC nozzles provide 20 percent greater life than the industry-leading ROCTEC 500 waterjet series, which already significantly outperforms other conventional tungsten carbide nozzles. The APX nozzles are suitable for use in precision cutting applications where long, uninterrupted cuts or close tolerances must be maintained for long periods to maintain part integrity or minimize expensive scrap due to premature nozzle failure.
"We're always trying to push the boundaries of performance, and we heard from customers the need for even greater productivity—to make longer cuts, gain more flexibility, and produce better parts on their waterjet machines," says Jeff Gardner, key account manager at Kennametal. "At the same time, waterjet machine builders continue to develop higher pressure pumps and more efficient cutting processes. ROCTEC APX is a next-generation nozzle designed to meet these needs."
Using APX series nozzles, waterjet shops can take on even more challenging, complex jobs or run at faster production speeds or longer production periods. It also enables customers to better integrate technology advancements, including advances in waterjet pumps and cutting head technology. In addition, since APX nozzles are based on the original ROCTEC technology that has been the industry standard for over 20 years, they exhibit the predictable and consistent operating life for which Kennametal ROCTEC nozzles are known.
Related Glossary Terms
tungsten carbide ( WC)


tungsten carbide ( WC)

Intermetallic compound consisting of equal parts, by atomic weight, of tungsten and carbon. Sometimes tungsten carbide is used in reference to the cemented tungsten carbide material with cobalt added and/or with titanium carbide or tantalum carbide added. Thus, the tungsten carbide may be used to refer to pure tungsten carbide as well as co-bonded tungsten carbide, which may or may not contain added titanium carbide and/or tantalum carbide.