November 13, 2012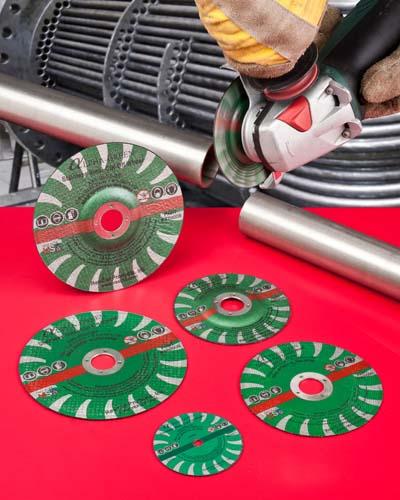 A line of cut-off wheels that are extremely thin and iron-free to reportedly cleanly cut stainless steel at rates up to twice as fast as conventional resinoid wheels is available from Rex-Cut Abrasives.
Rex-Cut ALPHA-GREEN Cut-Off Wheels feature a thin profile which is only 0.040" thick and are iron-free to produce a clean cut on stainless steel. Providing faster cutting than conventional resinoid wheels and a smaller exit bur, these thin profile cut-off wheels run cooler and provide a long service life, claims the firm.
Suitable for use in straight- and right angle grinders, Rex-Cut ALPHA-GREEN Cut-Off Wheels incorporate a proprietary reinforced resinoid bonding system of 60 grit aluminum oxide abrasives. They are offered in Type 1 straight-sided and Type 27 depressed center styles in 3", 4", 4-½", 5", 6", and 7" diameters.
Rex-Cut ALPHA-GREEN Cut-Off Wheels are priced from $1.10 ea. (list), depending upon quantity; packaged 25 to 50 per box. Samples and pricing are available upon request.
Related Glossary Terms
aluminum oxide


aluminum oxide

Aluminum oxide, also known as corundum, is used in grinding wheels. The chemical formula is Al2O3. Aluminum oxide is the base for ceramics, which are used in cutting tools for high-speed machining with light chip removal. Aluminum oxide is widely used as coating material applied to carbide substrates by chemical vapor deposition. Coated carbide inserts with Al2O3 layers withstand high cutting speeds, as well as abrasive and crater wear.

bur


bur

Tool-condition problem characterized by the adhesion of small particles of workpiece material to the cutting edge during chip removal.