March 01, 2015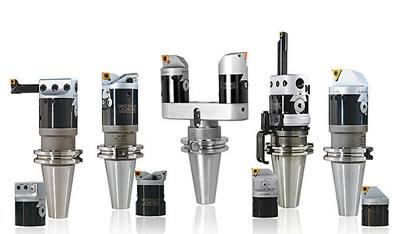 Allied Criterion Boring Systems is an expansion to Allied Machine & Engineering Corp.'s holemaking portfolio. The large mounting surface maximizes rigidity and stability, according to the company. The products include CNC toolholder shanks, single-point boring tools for finishing, twin-cut boring heads for rapid material removal, and microadjustable boring heads for close tolerances and large boring ranges.
Related Glossary Terms
boring


boring

Enlarging a hole that already has been drilled or cored. Generally, it is an operation of truing the previously drilled hole with a single-point, lathe-type tool. Boring is essentially internal turning, in that usually a single-point cutting tool forms the internal shape. Some tools are available with two cutting edges to balance cutting forces.

computer numerical control ( CNC)


computer numerical control ( CNC)

Microprocessor-based controller dedicated to a machine tool that permits the creation or modification of parts. Programmed numerical control activates the machine's servos and spindle drives and controls the various machining operations. See DNC, direct numerical control; NC, numerical control.

toolholder


toolholder

Secures a cutting tool during a machining operation. Basic types include block, cartridge, chuck, collet, fixed, modular, quick-change and rotating.