May 01, 2015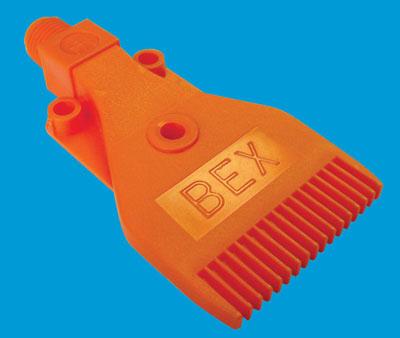 BEX Inc. has introduced a new nozzle specific to blow-off applications. The BEX Airwisk nozzle produces a quiet, fast and concentrated flat-fan pattern of air that can help maximize cooling, drying and blow-off applications. The design efficiently controls compressed air usage, helps reduce energy costs and provides optimum air distribution. The air stream is produced by discharging air through recessed orifices producing a flow of high-impact air with pinpoint accuracy.
The nozzle is made of tough ABS material, rated at 150° F and has a maximum pressure of 100 psi. It is designed with several mounting holes to ensure accurate alignment and can be mounted individually or side by side, to provide increased coverage. Typical applications for the Airwisk blow-off nozzle are drying, cooling and cleaning of parts, air curtains and debris removal.
With ¼" thread size, the nozzle's capacity (SCFM-standard cubic feet per minute) at various pressures range from 9.5 at 20 psi to 32.1 at 100 psi.