August 29, 2023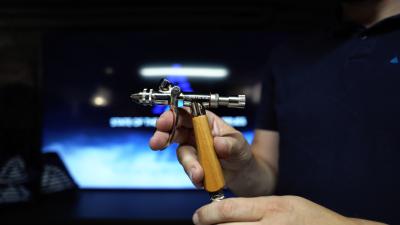 In order to measure very small, shiny and highly structured small parts more easily, they are first matted using the scanning spray AESUB yellow.
Now, AESUB offers a new airbrush with which the scanning spray can be applied even more easily. Its small and very fine nozzle makes the airbrush the perfect complement to AESUB yellow. The scanning spray AESUB yellow has a coating thickness of less than 1 micrometre, making it perfect for scanning with maximum precision. In combination with the new airbrush, the spray is applied even more evenly. The thin spray pattern even reaches tiny grooves and notches in delicate parts, e.g. jewellery, meaning that shiny surfaces and fine details can be optimally captured.
The airbrush is easy to operate and merely requires the flow rate to be set. The airbrush works most accurately at a constant pressure of approx. 1-2 bar which is set individually.
The airbrush is solid and robust, resulting in a long tool service life. The wooden handle facilitates ergonomic, balanced handling.
The airbrush and AESUB yellow are particularly suitable for situations in which fine details need to be captured. These are for example the jewellery, watch and semiconductor industries, and also laboratories.
Because the scanning spray AESUB yellow evaporates automatically after approx. 2 hours, no parts cleaning is required after scanning. The spray is free from pigments. It does not contain titanium dioxide, which is harmful to health.