November 18, 2021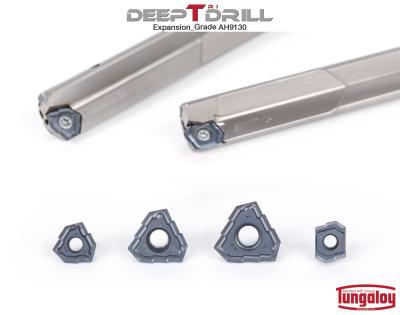 Tungaloy has added wear-resistant AH9130 insert grade to its DeepTri-Drill indexable insert gun drills.
DeepTri-Drill is a successful line of indexable gun drills that uses inserts with unique features. The drill allows increased penetration rate over conventional brazed gun drills, boosting productivity and application security during deep hole drilling applications.
DeepTri-Drill now offers wear-resistant AH9130 insert grade for its LOGT and TOHT inserts. AH9130 is the latest PVD technology specifically engineered for hole making applications. The grade consists of the latest PVD coating layer optimized for hole making applications combined with a dedicated carbide substrate and demonstrates superior wear resistance during deep drilling of steel, stainless steel, and cast iron, providing long and stable tool life.
LOGT inserts have two cutting edges, covering drill diameters ranging from 12.0 mm to 13.9 mm (.472″ to .547″). While TOHT inserts with three cutting edges come in six sizes and cover the tool diameter range from 14.0 mm to 28.0 mm (.551″ to 1.102″). Both insert styles have chip splitters on the cutting edge that break chips in small pieces for smooth and secure evacuation, eliminating drill breakage during deep hole machining.
The DeepTri-Drill series
Having pressed-to-form 3D chipbreakers on their rake face, the DeepTri-Drill inserts demonstrate effective chip control during deep hole drilling in a broad range of materials.
Unique chip splitters on the cutting edge securely break the chips into small pieces, which are smoothly evacuated with the help of the chipbreaker from the cutting point and out of the hole.
Thanks to indexable technology, DeepTri-Drill eliminates the need for reconditioning worn drills and also provides reduced downtime through its ability to change inserts while remaining in the machine spindle. In addition, the tool requires a minimal storage space, compared with traditional gun drills with brazed cutting edge, and streamlined inventory management.
The guide pads are allocated strategically on the drill body so that the drill can provide a maximum tool life and close hole tolerances. The guide pads are replaceable, allowing easy and secure replacements of worn guide pads.
Additional Products from Tungaloy America Inc.