January 12, 2012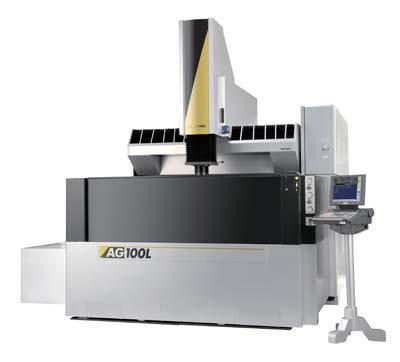 Sodick Inc. has released the eco-friendly AG100L Sinker EDM. The AG100L is part of Sodick's most popular line of Sinkers the AG Series. The AG100L features a simplified control mechanism which provides a direct link between the drive and the control. This ensures fast servo response time and optimal spark gaps at all times. The automatic three sided vertically sliding drop tank enables large workpieces to be easily loaded and unloaded. The AG100L has linear motor drives on the X, Y and Z axes, a 10-year positioning guarantee and glass scale feedback. The machine also comes standard with a zero electrode wear circuit and a fine finishing circuit. The AG100L has an X, Y, Z travel of 47.24" x 25.59" x 19.69" and can accommodate workpieces up to 11,000 lbs.
Related Glossary Terms
electrical-discharge machining ( EDM)


electrical-discharge machining ( EDM)

Process that vaporizes conductive materials by controlled application of pulsed electrical current that flows between a workpiece and electrode (tool) in a dielectric fluid. Permits machining shapes to tight accuracies without the internal stresses conventional machining often generates. Useful in diemaking.

linear motor


linear motor

Functionally the same as a rotary motor in a machine tool, a linear motor can be thought of as a standard permanent-magnet, rotary-style motor slit axially to the center and then peeled back and laid flat. The major advantage of using a linear motor to drive the axis motion is that it eliminates the inefficiency and mechanical variance caused by the ballscrew assembly system used in most CNC machines.