May 04,2021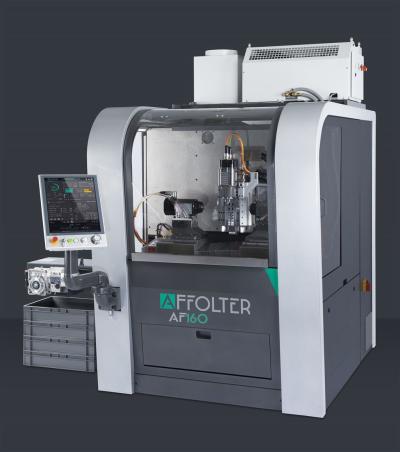 Precision, productivity, flexibility: The experts of the Swiss family enterprise Affolter Group (www.affoltergroup.ch), a world technology leader in high- precision gear hobbing solutions, introduce their newest machine: The AF160 is the most versatile Affolter gear hobbing machine to date. "The AF160 is designed for high precision manufacturers that need versatility and maximum efficiency," explains Vincent Affolter, Managing Director of Affolter Group. "With eight axes, a state-of-the-art digital CNC control, a variety of automation solutions and a maximum module of 2mm, it is ideal for manufacturers in industries such as automotive, aerospace, aircraft, gearbox, medical or robotics."
The AF160 can process parts with an outside diameter of up to 60mm and a length of 250mm. The machining length is between 110 and 180mm. The eight axes – all of them independent – make the AF160 the most flexible Affolter machine to date. It can produce straight gears, helical gears, straight bevel gears, face gears, straight or helical crowned gears, worm screws, worm wheels, cylkro gears, and internal gears. Power skiving, the milling of worms and shafts, as well as chamfering is possible, too. Vincent Affolter: "The AF160 enables manufacturers to produce an impressive variety of high precision gears, worm screws and worm wheels on the same, compact machine." The footprint of the machine is only 4m2. Including the loader AF72 it is a little more than 6m2.
Not only a machine. A solution!
With the AF160, Affolter does not only introduce a groundbreaking new gear cutting machine. "We think of it as a solution, not a machine – a solution that meets the needs of our customers. Thanks to the new CNC Control, various automation systems and peripherals, and the versatility of the AF160, we can offer maximum productivity for high-precision manufacturers in a very broad range of applications," emphasizes Vincent Affolter.
Intuitive CNC Control
The engineers of Affolter Group cooperated with Beckhoff Automation to launch the brand- new CNC Control Pegasus. The high processing power ensures extremely fast regulation. "It controls all machine axes as well as a multitude of peripherals for various options and automations," says Mr. Affolter. Programming is simple, intuitive, and user-friendly with a 19- inch touch screen. The new CNC Control integrates IoT. Data can be shared on the cloud, streamlining after-sales service and preventive maintenance, and therefore minimizing downtimes. Software updates can be done remotely.
Automation boosts productivity
Depending on the application and production processes, manufacturers need automation solutions to facilitate an autonomous operation for 12 to 24 hours. Affolter provides a range of such automation solutions: The universal multi-axes part loading and unloading system AF72 was especially designed for the AF160. It features a double gripper system for parallel loading and unloading and offers different methods of feeding based on the volume, product, and application. The AF160 can also be equipped with the deburring unit AF54, integrating the deburring process into the gear production. Different clamping systems provide for added versatility. Customizable coolant systems and chip extraction conveyors are available as well.
AF160 Technical Characteristics
8 axis CNC

Max. module 2.00 m / 12.7 DP

Max. cutting length 110-180 mm / 4.33-7.08 in.

Max. part diameter 60 mm / 2.36 in.

Spindle rotation B 9'000-16'000 rpm

Spindle rotation C-C' 5'000-12'000 rpm

Dimensions LxWxH 1'500x2'010x2'650mm

Weight 3'900 kg / 8.598 lbs.