September 19, 2018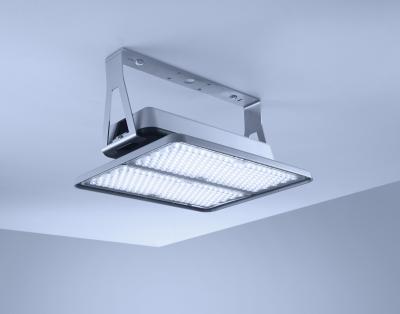 Waldmann Lighting announces the update of the ACANEO high bay luminaire, ideal for the full ambient illumination of large commercial or industrial facilities with ceilings of up to 100 feet, with its new ACANEO Extreme model. The ACANEO's sealed, closed design and strong, aluminum housing has been very effective in protecting inside mechanics and electronics from dust, humidity, oils or vapors.
The standard model is proficient in areas where temperatures reach up to 140° F, and now the new ACANEO Extreme can reach temperatures up to 158° F. Thermal heat management is built in, pulling heat up and away from the light source to prevent any overheating of the work or storage area, as well as the fixture itself.
ACANEO is available in various lumen outputs and color temperatures to enable a truly customized facility environment, whether lighting a storage area or factory floor. Patented lenses offer precise and glare-free illumination for these expansive industrial spaces. ACANEO's modular mounting system is quick and easy to install and its advanced LED technology provides 60,000 hours of maintenance-free operation (L80B10), boasting both time and energy-efficiency.
Related Glossary Terms
fixture


fixture

Device, often made in-house, that holds a specific workpiece. See jig; modular fixturing.